Fidel Castro dies at 90, Cuban state television reports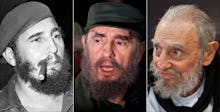 Cuban state television reported late Friday that Fidel Castro, the revolutionary leader of the Communist Party of Cuba, died at the age of 90, according to the Associated Press. 
Fidel Castro's brother, Raul Castro, announced his passing on Cuban national media. 
"With deep pain, I'm appearing to inform our people, the friends of our America and the world that today, November 25, 2016, at 10:29 p.m. at night, the commander in chief of the Cuban Revolution Fidel Castro Ruz died," Raul Castro says in the video. 
Castro's death comes at a time just as the United States was beginning to rebuild its long-damaged relationship with Cuba. After over 50 years of strict embargoes keeping the Cuban people and economy apart from the United States, President Barack Obama announced in 2014 that his administration intended on re-establishing diplomatic ties.
Castro led the 1959 overthrow against Cuban dictator Fulgencio Batista before seizing political and military power. Castro socialized Cuba and established a single-party state, serving as both president and prime minister to Cuba throughout the 20th century. Nine U.S. presidents served in office throughout Castro's reign in Cuba.
Castro's legacy is torn between his image as a revered revolutionary and nationalist hero, and his record of human rights abuses. Castro's rule over Cuba is stained by political executions and holistic government censorship of news and information.
"Condemn me, it does not matter," Castro famously said as he stood on trial as an early revolutionary. "History will absolve me."
Nov. 26, 2015, 1:13 a.m.: This story has been updated. 
This story is breaking and will be updated. 
Additional reporting by Mathew Rodriguez.