Miami residents celebrate Fidel Castro's death as Cuba mourns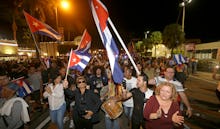 For many Cubans, the death of Fidel Castro on Friday meant the end of an era, a time to grieve a fallen socialist revolutionary considered by some to be the savior of a nation. But for Cuban-Americans living in Miami's Little Havana neighborhood, it meant a night of celebration.
According to the Washington Post, residents in the district took to the streets in the wake of the announcement of Castro's death, banging pots and pans and honking car horns in celebration.
The city is home to thousands of Cuban expatriates, the Post reports, many of whom turned out in droves in the wee hours of Saturday to wave Cuban flags and exchange triumphant hugs.
Civilians weren't the only ones taking time to rejoice. Rep. Ileana Ros-Lehtinen, R-Fla., tweeted a series of jubilant messages about the future of the island nation in the wake of the symbolic death.
"We must seize the moment and help write a new chapter in the history of #Cuba; that of a Cuba that is free, democratic and prosperous," she tweeted.
But in Cuba proper, the public mood was more somber. In Havana, the streets fell quiet in the early morning hours as bars and clubs shut down after Castro's brother and current Cuban leader Raul Castro, declared a national nine day mourning period, the Guardian reported.
One woman, 36-year-old Mariana Valdés, said despite the restrictions the Castro regime had imposed on the populace, the country's mourning was inevitable.
"Of course I'm crying," she said to the Guardian. "We Cubans are 'Fidelista' even if we are not Communist."
Despite lingering respect for Castro's legacy, democracy advocates such as Cuban journalist Marita Pérez Diaz seized the moment to paint his death as a major opportunity for new beginnings in Cuba.
"Today a symbol of terror dies, but not terror itself," she tweeted. "That we still have to burry along with totalitarianism."