'Wall Street Journal' movie critic mistakes Dev Patel with Kal Penn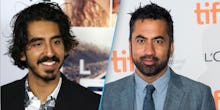 Wall Street Journal's Pulitzer Prize-winning movie critic Joe Morgenstern made a slight error in his review for the new movie Lion. 
While describing star Dev Patel's performance, which Morgenstern loved, Morgenstern mistook British-born Patel for New Jersey native and Harold and Kumar Go to White Castle star Kal Penn. 
"Saroo is played dazzlingly by Dev Patel, who gives his richest performance since The Namesake," Morganstern wrote, referencing the 2006 film based on Jhumpa Lahiri's 2003 novel. 
Penn retweeted an account that pointed out Morgenstern's error in the Journal's print edition. 
People on social media reacted with a mix of laughter and jeers to the mix-up. 
For what it's worth, Morganstern realized his error and called it "dumb." 
This is not the first time — and probably not the last — that two actors of color have been at the center of a public mix-up. In December, the Golden Globes Twitter account confused Ugly Betty actress America Ferrera with Jane the Virgin actress Gina Rodriguez, both of them Golden-Globe winning actresses. 
Ferrera and Desperate Housewives actress Eva Longoria later poked fun at the snafu during the Golden Globes ceremony. 
The Wall Street Journal review has been updated with a correction pointing out the mistake. 
"An earlier version of this article misidentified Dev Patel as appearing in Mira Nair's The Namesake," the correction reads.