Best tech deals on Cyber Monday 2016 from Amazon, Target, Best Buy and more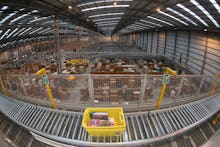 Many Americans took part in Black Friday this year, but some opted out of the annual shopping tradition. If you're one of the many who didn't take part in the big deals this Friday, and you're worried you may have missed out on your chance for some high-end technology items, fear not: There are still plenty of tech deals to take advantage of on Cyber Monday.
The first Monday after Black Friday has traditionally been called Cyber Monday since 2005. It's relevance is based on the modern conveniences of shopping while online — you can do it at home or at work (and many people do shop while on the clock). And this year, many (but not all) retailers are extending Cyber Monday to last all week long, meaning you don't have to confine your online shopping to just one day.
Here's some Cyber Monday 2016 deals you should take advantage of.
Target
Target gave customers a 15% savings on all sales across its site last year. They're repeating the deal again this year due to its popularity, with free shipping (and returns) on every order. You can save 15% off of most purchases, either online or in the store, on both Sunday and Monday. This deal includes many electronics, so you'll be set to buy that spy drone you've been eyeing all year long.
Amazon
The online retail giant Amazon has more than 75,000 deals you can take advantage of for the whole week of Cyber Monday. Amazon is stating that some of its deal items are "in limited supply," but that they'll "keep adding new ones as often as every five minutes" all week long. Examples of deals include $139.99 for the Amazon Echo (a $40 savings) and just $49.99 for the Kindle (a $30 savings).
Walmart
Walmart is also having a week-long Cyber Monday event on thousands of items. Their "cyber week" event began on Black Friday, and lasts throughout the rest of the week. One of the deals Walmart is highlighting is a $148 savings on a VIZIO 50-inch LED Smart TV, selling this week for $379.99. Walmart is also including free shipping on purchases over $50 during its weeklong sale.
Best Buy
Best Buy's Cyber Monday deals begin on Sunday, Nov. 27 and extend into the following Monday. Best Buy is a favorite destination for techies, so you can expect that they'll have thousands of deals to take advantage of as well. Deals include the Beats by Dre wireless headphones for just $249.99, a whopping savings of $130 that will be hard to pass up.
Kohl's
The Midwest-based department store isn't known as the most tech-savvy place to shop. But that doesn't mean you should ignore it, either. Kohl's, in fact, has some great deals going on during its "cyber days" event. The sale starts on Sunday and last through Wednesday, and includes "deep savings on amazing product categories including electronics, toys, clothing, home and more, as well as trusted brands including Nike and Fitbit – all just one click away," according to the store's press release. Peruse around some of their best tech deals on the site, including $129.99 for a Fitbit Charge 2.