Amber Heard is the star of an emotional new domestic violence PSA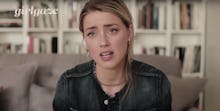 In an emotional new PSA on domestic violence, actress Amber Heard opens up some of the enduring stigmas around the form of abuse that she once fell prey to.
"How is this happening to me?" she opens the video by asking. "I'm strong, I'm smart... I'm not a victim."
Created in partnership with the GirlGaze Project, the video is made all the more powerful by its famous narrator: Heard, 30, finalized her high-profile divorce with actor Johnny Depp in August amid allegations of domestic abuse.
After the divorce was finalized, Heard donated the entirety of the $7 million divorce settlement to charity, including half to "the ACLU, with a particular focus to stop violence against women," she said in a statement at the time.
"It happens to so many women — when it happens in your home behind closed doors with someone you love, it's not as straightforward," Heard says in the PSA. "If a stranger did this, it would be a no-brainer."
In the clip, which was released Saturday, the International Day for the Elimination of Violence Against Women, Heard also details the ways in which her public battle with domestic abuse enables her to reach other women fighting similar battles and let them know that they are not alone.
"Violence against women is not limited to actual physical violence," she says. "It's also about how we deal with it and how we talk about it in the media and in our culture. And us taking responsibility for it is what really needs to change."