4 times Michelle Obama went high when they went low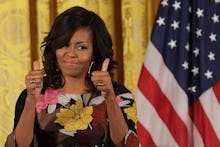 At a recent summit for veteran homelessness at the White House, Michelle Obama responded to an audience member's call for her to run for president with the same warmth and grace that has been the hallmark of her time as first lady of the United States, chuckling at the comment and jokingly scolding the outburst.
Although she's faced a slew of racist and sexist criticism and a litany of hateful comments, Michelle Obama has repeatedly adopted the mentality that she shared with the world during her speech at the Democratic National Convention: "When they go low, we go high."
1. Michelle Obama deftly tempers the flames when the fashion world criticizes her:
In January 2011, Michelle Obama came under fire for wearing a dress made by British designer Alexander McQueen to a state dinner to promote trade between the United States and China. Fashion designer Oscar de la Renta criticized the move, asking, "American products in China and Chinese products in America. Why do you wear European clothes?"
Diane Von Furstenberg, fashion designer and president of the Council of Fashion Designers of America, expressed disappointment at the First Lady's choice, too, stating, "Our First Lady Michelle Obama has been wonderful at promoting [American] designers, so we were surprised and a little disappointed not to be represented for this major state dinner."
While the designers were quick to point out how the first lady's choices can help or hurt American-based jobs, Michelle Obama was even quicker to put things into perspective during an appearance on Good Morning America:
Women, wear what you love. That's all you can say. That's my motto. It's nice to have on a nice suit. But it's nicer to change a generation, in terms of their health. It's a better use of my time to focus on rallying this country around our military families. I mean, there's so much that I hope to do in this role that makes a difference in people's lives.
2. Michelle Obama forcefully denounces Donald Trump's endorsement of sexual assault, by focusing on being better to one another:
In a rousing speech for Hillary Clinton in New Hampshire, Michelle Obama addressed Trump's infamous "Grab them by the pussy" video. She told the audience, "It has shaken me to my core in a way that I couldn't have predicted." Women across the country found a voice in Obama's speech. She used the video to highlight the importance of coming together — and shared her motto heard 'round the world: "When they go low, we go high." The speech, which you can read in full here, was called the "defining moment" of Clinton's 2016 campaign.
3. Instead of criticizing bullies, Michelle Obama offers constructive ideas on how to prevent bullying and improve relationships:
Throughout her time as first lady, Michelle Obama has repeatedly spoken out against bullying, often by pointing out the value of the lives being bullied. During an interview on The Ellen DeGeneres Show, Obama said, "All of these young people regardless of their race, their sexual orientation — they are gifts to us. They have so much to offer." She then added:
But it is also up to us as the adults in the room to create safe environments for our kids. What I tell my kids is it is there responsibility to not stay silent when they see something like that happen.
Her October 2010 Ellen appearance and the first-ever White House Conference on Bullying Prevention in March 2011 carried the same theme: the importance of acting as role models for children.
We all know that when we, as adults, treat others with compassion and respect, when we take the time to listen and give each other the benefit of the doubt in our own adult lives, that sets an example for our children. It sends a message to our kids about how they treat others. 
4. Michelle Obama throws shade at Donald Trump while still maintaining her philosophy:
During a stump speech for Hillary Clinton in Charlotte, North Carolina, Michelle Obama tapped her microphone — a mocking nod to Trump's claims that he did poorly in the first presidential debate because one of his microphones wasn't functioning properly. She said, "Hillary Clinton is tough. I've watched her. When she gets knocked down, she doesn't complain. She doesn't cry foul [taps microphone]. No, she gets right back up."
The First Lady used the speech to criticize Trump's instability, saying that "someone who's roaming around at 3 a.m. tweeting should not have their fingers on the nuclear codes."
The speech was carefully crafted to highlight Trump's emotional unsteadiness in contrast with the need for a president "who is steady and measured, because when making life-or-death, war-or-peace decisions, a president can't just pop off or lash out irrationally."