Russian figure skater Tatiana Navka draws criticism for Holocaust-themed performance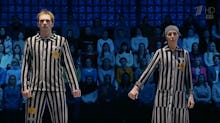 Viewers the world over are displeased with Tatiana Navka — a Russian figure skater and spouse of Vladimir Putin's press secretary, Dmitry Peskov — for the televised display of Holocaust-themed ice dancing she put on Saturday night, the Huffington Post reported.
Appearing on Russian reality TV program Ice Age, a Dancing With the Stars-type program in which professional skater and celebrity duos compete for fame and glory, the Olympic champion and her partner, actor Andrey Burkovsky, donned black-and-white striped concentration camp uniforms outfitted with gold Stars of David and prisoner numbers. 
As "Beautiful That Way" — a song by Israeli artist Achinoam Nini that readers may recognize from the Oscar-winning movie Life Is Beautiful, the story of a Jewish family trying to survive the Holocaust — played in the background, Navka and Burkovsky launched into an inappropriately cheerful pantomime of life in the camps. In the beginning, Burvoksky raises his arm as if to heil Hitler; in the end, he disappears to the sound of gunshots. 
According to BuzzFeed's translation of an Instagram post Navka shared following the routine (which she said was among her favorites), Life Is Beautiful — one of the skater's "favorite movies" — inspired the performance. 
After the segment caught the eye of New York magazine and Daily Beast contributor Yashar Ali, who shared a video on Twitter, the alleged homage quickly earned the label "staggeringly offensive."  At time of writing, Ali's tweet had been retweeted 1,000 times. 
Unfortunately, this is not the first tone-deaf World War II theme to air on Russian reality TV. As the Jerusalem Post reported, an April episode of Russia's Dancing With the Stars offended viewers when it portrayed a blossoming romance between a Nazi officer and the Jewish girl he was trying to force out of hiding. While the officer first threatens to shoot her, the pair end up dancing to Frank Sinatra's "Fly Me to the Moon" before she meets an untimely death. 
Another state-owned channel, Rossiya-1, apologized for having broadcast the Dancing With the Stars episode. At time of writing, Channel One had not commented on Navka's and Burkovsky's performance.