The best fitness smartwatches to buy this holiday season: Apple, Pebble, Misfit and more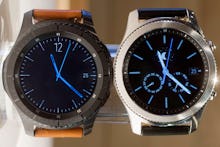 If the long lines and nonstop shopping on Black Friday 2016 and Cyber Monday 2016 didn't give you enough of a workout, we've got you covered. Staying in shape over the holidays can be difficult and holiday meals are not exactly conducive to a healthy diet. Enter this year's crop of tech-y — and very stylish — fitness trackers and smartwatches that keep time and track your essentials. 
Picking the perfect smartwatch these days can be tricky with the ever-increasing range of options top brands are offering. So here's a curated selection of the fitness trackers and smartwatches worth checking out over the holidays.
The Apple Watch 2, unveiled in September, features an onboard GPS system to help track any fitness-related workout, regardless of where you are. It's also got a water-resistant design for rain-soaked runs, and a customizable activity tracker. 
Apple's special partnership with Nike and Hermès also brings us a separate roster of watches that come with their own custom features, like leather straps and bands. 
The device's unique operating system, watchOS 3, comes pre-installed on each second-gen device. The third watchOS features lightning-fast responses and new apps like "Breathe" that are designed to help workout warriors relax. It claims up to 18 hours of battery life, which is a little disappointing, but the smartwatch's overall software and hardware upgrades make it a go-to wrist companion for any iPhone user. The upgrade provides a much smoother experience than its predecessor. 
— Apple: $369 to $1,249 (depending on style)
Unlike the Apple Watch, the sharp-looking Huawei Fit actually looks like a watch, with classic analog aesthetics. The device boasts a circular water-resistant screen, metal casing and swappable straps.
Since Huawei is part of Google's ever-expanding Android universe, the devices have access to the company's downloadable Google Fit companion app that logs and tracks daily, weekly and monthly fitness progress. 
However, buyers beware: Despite its otherwise stellar list of features — customizable fitness plans, real-time coaching, heart rate monitoring and up to six days of battery life — it lacks built-in GPS, which makes tracking distance in real time more difficult. Still, its cost might make it hard to pass up.
— Amazon: $99.99 to $178 (depending on style)
The Pebble 2 is a marked improvement from its forerunner, the Pebble Steel. Overall, it's a decent buy.
The smartwatch operates more like a fitness tracker and less like a watch masquerading as a health device. Day-to-day step, calorie and sleep tracking run automatically and don't require users to download third-party apps in order to work. The device has scratch-resistant glass, heart rate monitoring, voice activation and up to seven days of battery life — meaning you're less likely to run out of juice while working out.  
For workout beginners, the Moto 360 — which sends you notifications throughout the day to keep you motivated — may be the best smartwatch on the list. Through Moto's dedicated health app, Moto Body, the wearable provides workout summaries broken down by heart rate, steps walked, calories burned and more.
The app also provides personalized fitness recommendations and keeps tabs on workout pace, duration and distance in an effort to help users reach the weekly 150 minutes of physical activity recommended by the American Heart Association. 
You can get activity emails that sum up weekly fitness achievements once a week so you can better analyze your progress on larger screens. It's a feature that somewhat makes up for the device's poor battery life: The watch lasts up to 1.5 days on average.
Once you get past the Samsung Gear S3's steep price point, you'll be pleasantly surprised by what the wearable has to offer. The device comes in two styles: the sports-like Frontier and more conventional-looking Classic.  
While the device's slightly larger than normal watch face may be off-putting for some, it's a fair trade-off for a battery life that can last up to four days and its roster of fitness tracking features. 
Besides the Google Fit app, the device includes email, phone and text notifications and onboard GPS so you can leave your phone at home and rest assured that your calories and heart rate are logged. A built-in mic and speakers are great for consumers who need to answer calls hands-free or take notes post-workout.
Misfit's "hybrid" smartwatch, the Phase, combines features from its line of fitness trackers with the aesthetics of a classic watch. The Phase doesn't incorporate most of the bells and whistles found in other high-profile wearables, but it does have have key sensors that track quality of sleep, step counts, calories and fitness progress. Through the company's Misfit Link application the Phase can also act as a smart button to control connected devices, like Nest thermostats. 
Editor's note: Prices are subject to change throughout the holidays.
Mic Essentials brings you handpicked deals, reviews, recommendations and gift ideas. If you buy something through a link on this page, Mic may earn a small commission.