Muslim woman Halima Aden competing for Miss Minnesota USA in hijab, burkini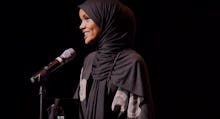 A Somali-American teen opted to wear a hijab and a burkini while competing in Miss Minnesota USA, sending a positive message about her religion. 
"The people that are doing bad things, they don't represent an entire group," Halima Aden said, according to ABC 7 Chicago. 
"I feel like I'm here to bust those misconceptions and stereotypes of Muslim women," Halima Aden continued.
The 19-year-old lives in St. Cloud, Minnesota, but is originally from Kenya: She was born in a refugee camp and left at the age of six. Aden is the first Miss Minnesota contestant to compete in a hijab and burkini, and she's more focused on being a role model for other girls — on showing them that clothing choices do not define who they are — than she is on winning the pageant. 
"A lot of girls were very supportive of what I'm doing, and that just makes it all worth it and my advice to them is just be confident in your own skin, know that an extra layer of clothing does not define your beauty, because beauty is within," Aden explained, according to ABC 7. 
Aden walked onstage Saturday in a full-coverage swimsuit and hijab, to "big cheers from the crowd," according to Liz Sawyer of the Minneapolis Star Tribune. 
"She's making history tonight," the announcer noted. 
Aden's evening gown also drew applause from the audience: 
According to the Minneapolis Star Tribune, Aden aims to become an ambassador to the U.N. one day, after graduating from St. Cloud State University, where she is currently a freshman. Her choice to enroll in the pageant has been a point of contention between the teen and her mother, and proved controversial within her Somali community. But Miss Minnesota's executive co-director, Denise Wallace, told the Star Tribune that pageant officials supported Aden's choice to don traditional dress because the event's goal is to encourage "women to be confidently beautiful."
"The organization continues to evolve as women evolve," Wallace told ABC 7. "The Miss Universe organization is proud to be the forefront of the diversity of beauty."
Sawyer reported that Aden is not the only Somali-American woman among the 45 contestants competing in Miss Minnesota USA, which concludes Sunday. The 20-year-old Muna Ali opted for a bikini.
The next Miss Minnesota USA will be crowned Sunday night and will go on to compete at the national level.