The family that's been tweeting from Aleppo just posted a farewell message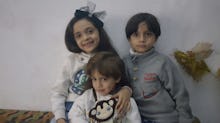 Since September, Fatemah al-Abed and her daughter, Bana, have used Twitter to document what life is like inside the walls of besieged Aleppo, Syria. On Sunday, they posted a message saying goodbye.
"Last message — under heavy bombardments now, can't be alive anymore," a tweet, seemingly posted by Fatemah, read. "When we die, keep talking for 200,000 still inside. BYE."
As heavy shelling has continued to rock Syria's largest city in recent weeks, the family's messages have become increasingly desperate. 
"Difficult afternoon in East #Aleppo," reads the caption on a picture posted Saturday of a cloud of dust trailing up in the aftermath of a bomb blast. In another tweet posted Friday, Fatimah begs for help for her family in the form of humanitarian aid.
"Allow in food. Just allow, just.... Please allow it for the thousands starving here. Why is it a problem?" the message read.
The family later tweeted an update that they made it through the bombing, but their home is destroyed.
The tweets come following the Syrian government resuming its airstrikes on residential areas in eastern Aleppo last Tuesday after a weeks-long pause, Al Jazeera reported.
The massive push to retake the city saw key successes on Saturday with the recapture of the Hanano residential area, and then again on Sunday as the army regained control of the Jabal Badro district.
Many rebel groups who oppose the country's president, Bashar al-Assad, have remained trapped in the city for months as barrel bombs rain down around them. According to the Guardian, a lack of resources like food and medicine, combined with the steady advance of Syrian troops, has made continued resistance all but futile.
But in the midst of chaos, the al-Abed family's tweets shone through as a glimmering slice of the humanity that still exists alongside the horrors occurring within Aleppo's borders.
In one video shared by Bana, the 7-year-old girl declares her admiration for her new favorite author, J.K. Rowling.
In another image, 5-year-old Mohamed looks at a children's coloring book.
"My 5-year-old Mohamed loves drawing, but he's very much afraid of the Russian planes," the accompanying caption reads.
According to the Associated Press, rebel forces in Eastern Aleppo have all but collapsed, and Syrian government-backed forces have advanced into the city.
According to UNICEF, more than 500,000 children are living under siege in Syria. "Children are being killed and injured, too afraid to go to school or even play, surviving with little food and hardly any medicine," UNICEF executive director Anthony Lake said in a statement. "This is no way to live — and too many are dying."
Nov. 27, 2016 5:32 p.m.: This story has been updated.