This photo of a Texas man taking a stand against Islamophobia is going viral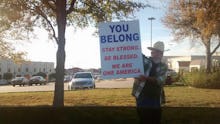 An image of a man holding a sign saying "You belong" outside the Islamic Center of Irving — the Irving, Texas, mosque which had been the site of a protest by armed anti-Islam activists — has gone viral.
The photo, originally posted to Reddit by user Kolmias, shows an unknown cowboy hat-wearing man holding a sign that reads: "You belong. Stay strong. Be blessed. We are one America." One Twitter repost of the photo by author and columnist Charles Finch was retweeted or faved just shy of 150,000 times by Sunday afternoon.
The gesture of inclusivity and goodwill comes at an ominous time for Muslim Americans. In 2015, the New York Times reported, officially reported hate crimes against Muslims surged to 257, a 67% increase from 2014. The Southern Poverty Law Center, a nonprofit that tracks extremist movements across the country, recorded over 700 "reports of hateful incidents of harassment around the country" in the week following Republican Donald Trump's victory in the general election.
Just this week, anonymously penned letters arriving at two California-area mosques threatened Trump will "cleanse" the country of Muslims and warned of violence against those who remained.
Armed protesters gathered around the Islamic Center of Irving in the weeks after the November 2015 ISIS attacks in Paris as part of what organizer David Wright called an attempt to "to show force," according to the Dallas Morning News. Wright continued: "It would be ridiculous to protest Islam without defending ourselves."
"I doubt that they'd be happy if some of the Muslim churchgoers here showed up at their Christian church, their Baptist church, their Methodist church tomorrow morning with rifles slung over their shoulders," City Council Member David Palmer told the paper.