NORAD Santa Tracker 2016: Follow the livestream and find out where Santa is right now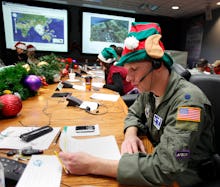 The countdown to Christmas is almost over, but the official North American Aerospace Defense Command Santa tracker is just getting fired up.
NORAD, which normally monitors North American airspace for potential threats, has debuted their official Santa tracker website, complete with cheerful Christmas tunes, games, and an interactive exploration of Santa's village to put you in the holiday mood.
The tracker will follow Santa's sleigh — in real time! — starting on Saturday at 2:01 a.m. Eastern. 
The NORAD Santa tracker is an annual tradition that started by accident. According to a press release from NORAD last year, when they celebrated their 60th year successfully tracking Santa's path around the globe:
It all started in 1955 when a local media advertisement directed children to call Santa direct – only the number was misprinted. Instead of reaching Santa, the phone rang through to the Crew Commander on duty at the Continental Air Defense Command Operations Center.
In an interview with NPR, Colonel Harry Shoup's children described that fateful misprint:
December 1955, Colonel Harry Shoup's secret hotline — a red phone only he and four-star generals at the Pentagon had the number to — suddenly rang. Shoup's daughter, Pam, says her father answered the call and "then there was a small voice that just asked, 'Is this Santa Claus?'" Shoup realized it wasn't a joke — after making the kid cry. Pam says her father talked to the child and that he "ho-ho-ho'd and asked if he had been a good boy" until Shoup could get the child's mother on the phone to explain how her son had gotten ahold of his super-secret phone number:
The mother got on and said, 'You haven't seen the paper yet? There's a phone number to call Santa. It's in the Sears ad.' Dad looked it up, and there it was, his red phone number. And they had children calling one after another, so he put a couple of airmen on the phones to act like Santa Claus.
On Christmas Eve, Shoup checked the airspace tracking board and noticed something peculiar — a Santa coming from the North Pole, put up by the airmen — so he called the local radio station, Shoup's other daughter, Terri, told NPR:
Dad had called the radio station and had said, 'This is the commander at the Combat Alert Center, and we have an unidentified flying object. Why, it looks like a sleigh.' Well, the radio stations would call him like every hour and say, 'Where's Santa now?'
Thanks to technological advancements to Santa trackers, we don't need to call a top-secret telephone line to get updates on Santa's whereabouts. NORAD's Santa tracker website is available in eight different languages and even has its own newsroom for immediate updates and news about NORAD's Santa Tracker (like how the Canadian arm of NORAD recently named Santa's escort pilots and trackers of the year). You can follow the NORAD tracker on Facebook, Twitter and YouTube and the tracker is available as a mobile app, too.
For those who want to connect old-school on Christmas Eve, you can call 1-877-HI-NORAD.