Texas officially defunds Planned Parenthood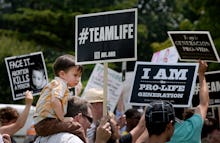 In 2015, Texas Gov. Greg Abbott pledged to remove Planned Parenthood's $3.1 million in Medicaid funding, piggybacking off public outrage following the release of controversial, heavily edited videos allegedly showing Planned Parenthood officials illegally trafficking fetal tissue. 
One year later, Abbott has made good on that promise, the Texas Tribune reported. Planned Parenthood now has 30 days to take action or be removed from Texas' Medicaid program, which serves the poor and disabled.
This isn't new territory for Planned Parenthood in the Lone Star State.
In October 2015, Planned Parenthood received a notice of intent to remove the organization from Texas's Medicaid program. That notice gave the organization 30 days to respond and request an "informal resolution meeting" with health commission attorneys, according to the Texas Tribune. If Planned Parenthood did nothing, the notice said, Texas officials would issue a "final notice of termination," ensuring Planned Parenthood's removal from Medicaid after 15 days.
In November 2015, Planned Parenthood filed a lawsuit against Texas officials to protect itself from that final notice, but the lawsuit was put on hold because Texas officials never moved forward with the termination. The Texas Tribune noted that final notices in similar cases have typically arrived after four to six weeks, but the final notice to Planned Parenthood took more than a year, with no known explanation for the delay.
The removal of Planned Parenthood from Medicaid threatens to leave thousands of low-income people without access to routine healthcare checkups, cancer screenings, birth control and various other forms of preventive care. Shortly after the state's initial notice of intent in 2015, a study conducted by the Texas Policy Evaluation Project found at least 100,000 and as many as 240,000 women in Texas had attempted to self-induce abortions. HB2, a 2013 Texas House Bill that gained widespread criticism and was famously filibustered by Wendy Davis, has helped dramatically cut the number of abortion clinics in Texas, despite being ruled unconstitutional by the Supreme Court earlier this year.
In a statement, Yvonne Gutierrez, executive director of Planned Parenthood Texas Votes said the group will continue its fight: "Planned Parenthood continues to serve Medicaid patients and will seek a preliminary injunction in an ongoing lawsuit filed in November 2015, following the state's original threats to take action against Planned Parenthood's patients."