3-year-old Acen King shot dead by '"road rage" driver in Arkansas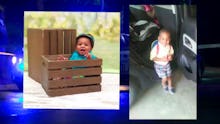 Three-year-old Acen King was fatally shot Saturday in the backseat of his grandmother's car in Little Rock, Arkansas, a victim of an apparent road rage incident. A gunman reportedly opened fire on the car because King's grandmother "wasn't moving fast enough at a stop sign." Police are still searching for the gunman, who was described as a "tall African-American man" in an "older model black Chevrolet Impala," NBC News reported.
According to police, the grandmother, Kim King-Macon, was at a stop sign when a man upset by the traffic delay got out of his car and opened fire. In an audio recording of her 911 call released to NBC News, King-Macon is heard screaming in anguish, "Acen has been shot! Oh my god!"
Later in the call, King-Macon tells police:
I was at the stop sign and the guy blew a horn at me and I blew it back, and he shot, but I thought it was in the air. He shot at the car!
According to police, King-Macon didn't realize her grandson had been shot until after she arrived at the shopping mall, where she immediately entered to call 911.
"It should shock all of our conscience," Little Rock Police Chief Kenton Buckner said, according to NBC News. He made an appeal for anyone with information about the shooter to contact police. On Sunday, the city of Little Rock announced a $20,000 reward; on Tuesday, the FBI also offered a $20,000 reward, increasing the reward to $40,000.
This is the second time in a month that a child has been shot and killed while riding in a car in Little Rock. On Nov. 22, a 2-year-old girl was in her mother's arms in the back seat of a car when another car drove by and opened fire. The toddler died in the emergency room less than an hour later.
After the most recent shooting, Buckner told reporters, "We cannot have a community to where the least protected among us, meaning infants, who are dying in these senseless crimes in our city." 
Local television station KTHV reported that Pastor Terrance Long is planning a candlelight vigil at the corner of Mablevale Cutoff and Warren Drive, where King was shot, at 7 p.m. Wednesday night. Long hopes the vigil will encourage residents to share information with the police. "If you don't say nothing, you're just as guilty as the person that did it," he said.