Who is performing at the 'CMA Country Christmas' 2016 special?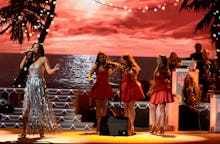 There's no better way to begin a countdown to Christmas than by listening to your favorite Christmas classics. On Monday, the Country Music Association hosts the annual CMA Country Christmas, an ABC special that brings together some of today's best country artists to perform Christmas tunes. 
Performers this year include Joey Alexander, Kelsea Ballerini, Kelly Clarkson, Andra Day, Brett Eldredge, Amy Grant, Loretta Lynn, Idina Menzel, Sarah McLachlan, Kacey Musgraves, Jennifer Nettles, Brad Paisley, Rascal Flatts, Jordan Smith, Trisha Yearwood and Chris Young. 
Between all of the artists, 23 songs will be performed. Jennifer Nettles, the lead singer of the band Sugarland, will also host the special — for the seventh time. She released a holiday day album, titled To Celebrate Christmas, in October. It was previously announced that Nettles will sing "Little Drummer Boy" with Idina Menzel, "God Rest Ye Merry Gentleman" with Andra Day, and Loretta Lynn's "Country Christmas" alongside Trisha Yearwood and Lynn herself. 
CMA Country Christmas airs Monday, Nov. 28 at 8 p.m. Eastern on ABC. The event was taped on Nov. 8 at the Grand Ole Opry House in Nashville, Tennessee. You can watch a preview of the event below.