What movies are coming out in December 2016? 16 can't-miss new releases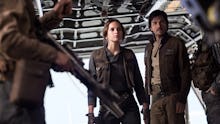 With only one month left in 2016 there are only a handful of movies to see in theaters before the year comes to a close. Oscar hopefuls like Jackie, Fences, and the still unseen Silence are making their theatrical debut. But there are also some bigger anticipated blockbusters to look forward to, like the Jennifer Lawrence-starring Passengers and the Star Wars standalone film Rogue One.
Incarnate (Friday)
Directed by Brad Peyton (San Andreas), Incarnate asks the question: What happens when an exorcism doesn't work? The horror movie follows the demonic possession of an 11-year-old boy and his family's failed attempts to get the demon out. After several exorcists are unable to, they recruit Dr. Seth Ember (Aaron Eckhart), a man who can dive into the subconscious mind of the possessed person. Incarnate sees Ember jump into the boy's mind and face the "strongest demon he's ever encountered." 
Jackie (Friday)
In Pablo Larraín's Jackie, Natalie Portman appears as first lady Jackie Kennedy in the days following her husband's assassination. The film looks at her grief and mourning, who she decides to confide to — John F. Kennedy's brother Bobby Kennedy (Peter Sarsgaard), a priest (John Hurt) and a journalist (Billy Crudup) — and her determination to ensure not only her husband's legacy but her own. The film has been generating Oscar buzz since its Venice Film Festival debut in early September, where Noah Oppenheim won for best screenplay.
Man Down (Friday)
Shia LaBeouf has had quite a year. He impressed in Andrea Arnold's American Honey and leads Man Down, a war drama about a man who returns home from Afghanistan to find his home is just as ravaged as the country he's just come from. He sets out with his best friend from the military to find his missing wife and son, and the closer he gets, the more unusual his surroundings and circumstances become. From the trailer, the film looks to be a pretty haunting portrayal of trauma, and how it never fully leaves you. 
Miss Sloane (Dec. 9)
Jessica Chastain once again plays a powerful American in Miss Sloane. Elizabeth Sloane is a high-power Washington, D.C., lobbyist who has made a name for herself for her ruthlessness. In John Madden's film, however, Sloane decides to take on a case so big and dangerous that she ultimately ends up putting her life on the line. After all, it's not every day that someone decides to challenge gun manufacturers so directly. 
Nocturnal Animals (Dec. 9)
In Tom Ford's first movie since his much lauded period drama A Single Man, he's picking up the pace. Nocturnal Animals stars Amy Adams (in what looks to be another great performance of the year) as Susan Morrow, a cold, unhappily married art gallery owner who receives the manuscript of her ex-husband's novel. The book is violent and horrifies Susan, who begins to wonder if the whole thing is an attempt from her ex — played by Jake Gyllenhaal — to deliver a message after she did something horrible to him.
Office Christmas Party (Dec. 9) 
Jennifer Aniston stars as Carol Vanstone, the CEO of a company who tries to close down her brother Clay's part of the company. To show his sister that he's serious, and to impress a client, Clay decides to host an epic Christmas party in the company office. Office Christmas Party's cast is pretty stacked: Kate McKinnon, Olivia Munn, Courtney B. Vance, Jillian Bell and Vanessa Bayer.
Collateral Beauty (Dec. 16)
Will Smith leads the ensemble piece Collateral Beauty, a film that follows Smith's character Howard, a man who has faced a tremendous loss and copes with it by writing letters to abstract concepts. He writes to Love, Death and Time. Strangely enough, his letters are answered and the film — also starring Edward Norton, Keira Knightley, Naomi Harris, Helen Mirren and Kate Winslet — shows how Howard learns that even after a tragedy strikes there's still a way to live a fulfilling life. 
La La Land (Dec. 16)
Damien Chazelle's debut, Whiplash, was a surprising gem from 2014, a film that captured the dedication and blood one must put in to be successful in their craft. His second film La La Land is more romantic, a full-blown Los Angeles-set musical about an aspiring actress who can't catch a break and a bitter jazz musician jaded by the current state of music. They have an immediate connection, and La La Land not only presents us with their epic romance but shows how the two artists find their way on their own. 
The film is an Oscar frontrunner in many categories, including best picture, best director and best actress. However, it's been quite a few years since a musical took home the award for best picture. The last musical to do so was Chicago in 2003.
Rogue One (Dec. 16) 
The first standalone film in the Star Wars universe, Rogue One takes place in the time shortly after the formation of the Galactic Empire. Felicity Jones plays Jyn Erso, a young woman who is recruited by the Rebel Alliance to help them achieve something major: steal the design plans for the Death Star. Coming just a year after Star Wars: The Force Awakens, Rogue One is a film that puts fans right in the center of Galactic Empire, 30 years before the Death Star was destroyed and the First Order was formed. 
Assassin's Creed (Dec. 21)
Based on the popular video game, Assassin's Creed takes us back to the Spanish Inquisition — but not right away. First we meet Callum Lynch (Michael Fassbender), a present-day criminal saved from execution by Abstergo Industries. They request he take part in a project that will allow him to experience the memories of his ancestor, Aguilar de Nerha, an assassin from 15th century Spain. 
Passengers (Dec. 21)
Imagine waking up 30 years into a 120-year long trip to a sustainable planet? That's the premise of Passengers, a sci-fi film that looks to be equal parts rom-com and thriller. Starring Jennifer Lawrence and Chris Pratt as Aurora and Jim, Passengers follows the instant connection between the two figures, the only two aboard the Starship Avalon who have awoken from their sleep chambers. The dark side of it all? Something is wrong with ship and in addition to their blossoming romance, Aurora and Jim have to figure out how to survive. 
Sing (Dec. 21)
Sing essentially looks like an animated version of America's Got Talent, featuring talented anthropomorphic animals instead of people. Buster (Matthew McConaughey) is a koala who is determined to save his theater from closing. To do so he holds a huge talent competition, and finds standouts in Rosita (Reese Witherspoon), a tired housewife who loves dancing; Mike (Seth MacFarlane), a gambling mouse; Ashley (Scarlett Johansson), a punk porcupine; Meena (Tori Kelly), a shy elephant, and Johnny (Taron Egerton), a British gorilla eager to create distance from his criminal father. 
Silence (Dec. 23)
Three years after the release of Wolf of Wall Street, Martin Scorsese is giving us Silence, a period drama based on the 1966 Japanese novel by Sh?saku End?. The film has also been Scorsese's passion project for over 20 years. Andrew Garfield and Adam Driver lead the film as Portuguese Jesuit priests who head to 17th century Japan — despite reported violence — in search of their mentor. At the time of their arrival, Christianity was banned from Japan. 
Why Him? (Dec. 23)
James Franco plays every parent's biggest annoyance in Why Him?, a comedy that features Franco playing Laird Mayhew, the billionaire boyfriend to Stephanie Flemming (Zoey Deutch). When Stephanie's family comes to visit, they're all overwhelmed by Laird: he curses, has tons of tattoos, and is way too comfortable around them. After telling Stephanie's father, Ned (Bryan Cranston), that he plans to propose and wants his approval, Laird does everything in his power to impress the Flemmings. Ned, on the other hand, does everything he can to take down Laird.
20th Century Women (Dec. 25)
It's been over five years since Mike Mills released his tender Beginners. The director now returns with what looks to be another heartwarming picture about family. 20th Century Women is about a single mother's quest — in Santa Barbara, California, in 1979 — to raise her young son. She recruits two young women, played by Elle Fanning and Greta, to instill a sense of respect and romance in her son, and in the process discovers things about herself. 
Fences (Dec. 25)
Denzel Washington directs and leads Fences, an adaptation of the Pulitzer Prize-winning play by August Wilson. Fences sees the middle-aged Troy, played by Washington, trying to take care of his family. When he was younger he played baseball in the Negro League and now works as trash collector. The film is a moving picture that sees Troy taking a hard look at his life — past, present and future. 
Although it's early, the talk is that Washington is a serious contender for both best actor and best director.