This blogger just launched a subscription box service specifically for Muslim women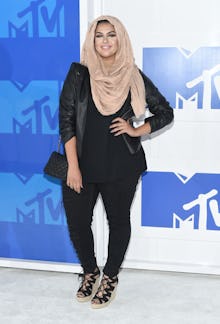 At this point, there's a subscription box for basically everyone. Love makeup? Then there's Birchbox. Have natural hair? Then there's curlBOX. Love weed? Then there's Nancy. 
But on Black Friday, the hugely popular fashion and lifestyle site Muslim Girl managed to launch a subscription box service unlike any other out there, with monthly boxes specifically tailored to the needs and wants of Muslim women. 
"We want to bridge the gap between brands and Muslim women, and actually serve the real needs and lifestyles of Muslim women in today's world," Amani Al-Khatahtbeh, Muslim Girl's founder and editor-in-chief, told Refinery29.
Each of the monthly boxes go for just $20 (it's $220 for the year) and the first one is effectively a care package for Muslim women after the U.S. election, stuffed with a scarf they can wear as a hijab or an accessory, a Muslim Girl safety guide, some cosmetics from the halal makeup brand Tuesday in Love and pepper spray, though that can only be sent to women in the U.S. 
"[The box is] a response to the whiplash that many of us are still feeling from this month's elections, and the proceeding escalation of hate crimes and public harassment targeting Muslim women over the past couple of weeks," Al-Khatahtbeh, who's an author, told Refinery29. "We want our subscription box to be prepackaged self-care: a monthly reminder to hit pause, breathe and take care of yourself, first and foremost." 
As for the rest of the boxes for the next year, Al-Khatahtbeh will be sending out a scarf in each box, as well as halal cosmetics and items from popular Muslim-owned businesses.
Since the site's creation in 2009, Muslim Girl has gathered up a massive fanbase online, with more than 25,000 followers on Instagram and over 93,000 fans on Facebook, and received attention from major outlets like Teen Vogue, the New York Times and Time.
"We want to cater to Muslim women's diverse lifestyle without stripping away our identity," Al-Khatahtbeh told Refinery29. "We also want to use products to answer to those issues and equip Muslim women with what they need to replenish and rise up." 
Mic has reached out to Amani Al-Khatahtbeh for further comment.