When does Melissa McCarthy appear in 'Gilmore Girls: A Year in the Life'?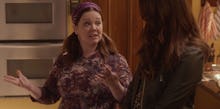 After much Sturm und Drang about whether Melissa McCarthy would return for Gilmore Girls: A Year in the Life, Netflix's revival of the beloved WB show, all was settled. Creator Amy Sherman-Palladino and the movie megastar worked out a way for McCarthy to appear, and all was lovely on the set.
But if you're taking your time watching the episodes (versus bingeing through all four 90-minute installments in one weekend), you might be wondering where McCarthy is. She's not in the first three episodes — "Winter," "Spring" or "Summer." In fact, her character Sookie St. James doesn't show up until the back half of the final episode, "Fall."
(Editor's note: Spoilers ahead for the "Fall" episode of Gilmore Girls: A Year in the Life.)
Lovable chef Sookie is mentioned at several different points in the revival, mostly to explain why Lorelai Gilmore's Dragonfly Inn suddenly needs of a slew of celebrity chefs (including Roy Choi and Rachael Ray) to take up residence in the kitchen. In "Winter," Lorelai says Sookie is on sabbatical, working with chef Dan Barber at Blue Hill Farm — a break that was supposed to take six months, but has extended into over a year. Her husband Jackson even appears briefly in "Spring," but without his wife.
But Sookie — and McCarthy — reappear when Lorelai needs her most: on the eve of her wedding to Luke Danes. Lorelai walks into the Dragonfly's kitchen and sees a host of wedding cakes and instantly realizes Sookie is there. After calling her name a few times, Sookie springs up, accidentally shooting frosting across the kitchen in the process.
The scene is a lovely reconnection between two best friends who've been apart for almost two years. Sookie is apologetic for leaving the inn for so long; Lorelai is just glad to have her back. It's one of the best scenes not just in "Fall," but of the whole revival.
Sherman-Palladino and Netflix may not have gotten McCarthy back for long, but a little bit of Sookie goes a long way.