Fidel Castro's Death: What the Communist leader's passing means for US-Cuba relations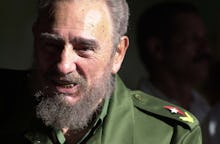 In the wake of physical ailments, Fidel Castro ceded power to his younger brother, Raúl Castro, in 2008, hoping that he would continue the legacy of hard-line communism in Cuba and the Americas. Soon after he took office, the younger Castro decided to leave behind the days when his brother bedeviled U.S. presidents and pushed the world to the brink of nuclear war. Instead, Castro made a historic decision, alongside President Barack Obama and Pope Francis, to thaw U.S.-Cuba relations in 2014. 
The new chapter in U.S.-Cuba relations did not please El Comandante. In an op-ed for Cuban newspaper Granma titled "Brother Obama," Fidel Castro wrote that the United States "empire did not need to give away anything to Cuba" since "this noble country will not renounce its glory, rights and spiritual wealth that has earned thanks to the development of education, science and culture." 
Although Fidel Castro did not remain in power in the last eight years, his death raises new questions about the future of U.S.-Cuba relations. While Obama offered condolences to the Castro family while providing a "hand of friendship" to the Cuban people, President-elect Donald Trump simply tweeted, "Fidel Castro is dead!" 
Meanwhile, Vice President-elect Mike Pence wrote on Twitter that "the tyrant #Castro is dead. New hope dawns. We will stand with the oppressed Cuban people for a free and democratic Cuba. Viva Cuba Libre!"
Monday, Trump added on Twitter that "If Cuba is unwilling to make a better deal for the Cuban people, the Cuban/American people and the U.S. as a whole, I will terminate deal [to restore bilateral relations]" 
A recent appointment poses a threat to U.S.-Cuba relations.
Trump named Mauricio Claver-Carone, a harsh critic of Obama's efforts to improve bilateral relations with the island, to join the transition team for the U.S. Department of the Treasury, where he was an attorney-adviser until 2003. Claver-Carone runs U.S.-Cuba Democracy Political Action Committee, which actively promotes the Cuban embargo. He is also the executive director of Cuba Democracy Advocates, a nonprofit that describes itself as an "organization dedicated to the promotion of a transition in Cuba towards human rights, democracy and the rule of law."   
Since Obama eased travel restrictions to Cuba, the amount of U.S. tourists visiting Cuba has increased by 50 percent, according to the Washington Post. The new travel measures have also allowed visitors to bring unlimited quantities of rum and cigars, and companies such as Airbnb have already established businesses in Cuba. 
With a Republican majority in Congress, however, the hopes of lifting the embargo in its entirety might be fading away, as legislative action is required to remove all sanctions. Cuban-American congressmen have opposed an Obama-driven detente, among them Republican Sens. Marco Rubio and Ted Cruz, as well as Democratic Sen. Bob Menendez. Reps. Ileana Ros-Lehtinen, Alex Mooney, Carlos Curbelo and Mario Díaz-Balart, have also rejected any change in U.S. Cuba relations. 
When it comes to immigration, Cubans may face dire consequences. Trump have previously expressed opposition to the 1996 Cuban Adjustment Plan, which allows Cubans seeking asylum to enter the U.S. legally. A stronger stance on immigration may pose a humanitarian crisis to thousands of Cubans who are now trying to cross the U.S. Mexico border instead of navigating the treacherous Florida Straits.
Cuba is in a shadow of uncertainty.
Raúl Castro pledged to relinquish power by 2018, which could force the island to adopt new economic reforms swiftly. Meanwhile, Venezuela, Cuba's strongest ally in the Americas, is grappling with socioeconomic turmoil and is unable to provide more economic stimulus to the island. For now, Cubans are pondering whether history will absolve one of the Cold War's last symbolic figures.