When and where to watch the 'CMA Country Christmas' 2016 special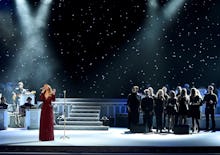 Turkey Day is behind us (even if the leftovers aren't), which means that many of us are dreaming of sugarplum fairies and holiday TV specials. After all, we have sparkly affairs like the CMA Country Christmas special to witness. And with Sugarland's Jennifer Nettles hosting — yes, for the seventh year in a row — and everybody from country pop favorite Kelly Clarkson to the legendary Loretta Lynn performing, country-lovers can't miss this spectacle.
If you're squealing right now, you probably want to know when and where to watch the flurry of magic, big hair and twangs. You can catch the 2016 CMA Country Christmas special tonight at 8 p.m. Eastern on ABC.
But before you cozy up on the sofa with your popcorn and brisket, here's a little teaser Nettles tweeted this morning:
"People want something to come and celebrate, you know, these albums that they've made," Nettles told reporters backstage during the show's taping. "So this year, we have a great crop of artists who have put out records this year. You know, everybody from Kacey Musgraves to Brett Eldredge to Chris Young. It will be a very, I think, filled-out show this year because of that."
Need more teasers to hold you over until this evening? Don't worry, the CMA YouTube channel has plenty of other videos you can stream on your lunch break. Here's one of country music stars getting quizzed on the ingredients of eggnog (because why not):
After this election season, go ahead and treat yourself. You probably need a distraction. Apparently these stars did, too. They even shot the special on election night! And in Nashville's Grand Ole Opry no less. Brace yourself for all the glitter.