Model Jazz Egger is re-captioning her Instagram posts to reveal the truth behind the shot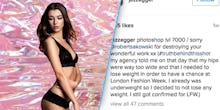 We all know by now that on Instagram, it's best not to completely believe what you see. There are the filters and the slimmers and the lighting and so on. Nothing you see is real. 
But still, there's something awfully refreshing about a professional model wanting us to know this truth as well. 
Take model Jazz Egger, for instance. She competed on Germany's Next Top Model and has a budding modeling career in London. Over the past few weeks, though, she's been going back into her Instagram captions and editing them to reveal the truth behind each shot with the help of the hashtag #TruthBehindThisShot.
For instance, on one professional picture of her posing in lingerie, she wrote, "My agency told me on that day that my hips were way too wide and that I needed to lose weight in order to have a chance at London Fashion Week. I already was underweight so I decided to not lose any weight. I still got confirmed for LFW." 
On a mirror selfie on a bed, she wrote, "This took me like 15 minutes to take and I was close to falling off my bed because I had to make my legs look slim."'
On a picture of herself posing in a sweater in the sun, she wrote, "I spent about an hour thinking about whether I should post this or not because my nose makes me feel uncomfortable." 
On one image at London Fashion Week, she wrote, "I didn't sleep much the night before because fashion week is pure madness. I didn't eat/drink salt, sugar, fat and alcohol for months to prevent my skin from breaking out. Didn't work. Makeup artists covered it up."
Egger's insights continue for more than 33 months back in her account, with notes on selfies and professional pictures and even behind-the-scenes snapshots. Obviously, she is committed. 
In an interview with Distractify, Egger said it all started with wanting to caption just one image truthfully a week ago in a rebellious attempt to reveal the less glamorous side of fashion and modeling. 
"Casting directors started asking me how many followers I have so they can decide whether they want me for a job or not," Egger said to Distractify. "So today, I decided to post a selfie with a different caption than usual. I was honest. I'm so sick of people pretending to have a perfect life because I know their Instagram feed is full of lies which support stereotypical standards.
"I think no one shall feel bad if they don't live a life everyone is pretending to have so I started #TruthBehindThisShot to show the real stories behind my pictures. I edited my captions and added the truth."
According to one of her latest Instagram post, there's no signs that she'll be stopping anytime soon either. 
"Who would've thought my story would go viral I am so happy," Egger wrote. "Millions of people read about my story and it's so heartwarming that so many of you thanked me for speaking up. I will keep sharing the truth behind my future shots. And remember — this is just the start." 
Egger isn't the first blogger and model who's attempted to pull back the curtain on her own Instagram pictures for the greater good. With a few simple pictures and sometimes a hashtag, workout bloggers have disproved the myth of the before-and-after photo; curvy models have debunked the deceptive power of digital altering and good posing and makeup artists have gotten real about FaceTune. Back in 2015, there was model and social media star Essena O'Neill, who told the brutal truth behind many of her paid posts and the effort that went into that perfect shot. 
So clearly, not only is Egger in good company here, but she's also part of an important movement to bring a sense of reality back to Instagram.