Bana al-Abed, who tweeted the fall of Aleppo, is safe after being evacuated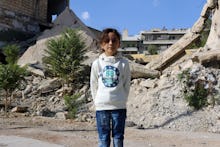 Seven-year-old Bana al-Abed, who has been described as "our era's Anne Frank" for livetweeting the horrors and despair of the Syrian civil war, was among a group evacuated out of eastern Aleppo early Monday morning.
A ceasefire brokered between Turkey and Russia offered a last chance for civilians to evacuate the rebel-held district of Aleppo as Russian-backed government forces sought to overtake the city. The evacuation plans faced trouble: On Wednesday, empty buses intended to carry civilians fled the city as gunfire resumed. A new ceasefire deal was established on Saturday, but buses to evacuate civilians were set on fire.
Ahmad Tarakji, the president of the Syrian American Medical Society, says his organization is working on a response plan to assist evacuees. On Twitter, Tarakji shared photos of children rescued from Aleppo, noting that SAMS "will be their family."
Bana's Twitter account, which has swelled to nearly 330,000 followers, was created in September and has been used to humanize and shed light on the atrocities of the war. Through Twitter, Bana and her mother, Fatemah, often posted harrowing, heartbreaking pleas to the world to help those remaining in eastern Aleppo.
As knowledge of the Twitter account grew, it became the target of conspiracy theories. Syrian President Bashar Assad likened Bana's tweets to those of "terrorists or their supporters" and some believed the account was fake propaganda, with the actors behind it ranging from the CIA to NATO.
Rumors and criticisms have swirled around the Twitter account, questioning how they kept their phone charged to send tweets (solar panels), how they speak English so fluently (Fatemah, Bana's mother, is a teacher) – even how they're able to tweet immediate news about bombings before the news media covers them (they live where the bombs are dropping).
Bellingcat, a site that uses "open source and social media" information to investigate stories, debunked a number of conspiracy theories about Bana's existence, details on her family and the authenticity of her Twitter account, even going so far as to geolocate the block her family lived on.
While the conspiracy theories continue to follow Bana and Fatemah despite their evacuation from east Aleppo, Fatemah has remained focused on the same message: Syrians are suffering.
After arriving to the countryside of west Aleppo, Fatemah spoke with reporters:
Me and Bana want to tell all the world about kids and all people in east Aleppo. How much they are suffering from bombs and everything because there is no life there. So we [created] our Twitter to tell all the world what [is happening] there. And we are happy because our voice reached all the world. And we are feeling – I am sad because I leave my country, I leave my soul there. I want to [have] our freedom there, not [to] be like a refugee in other countries.
Thousands of people have been held at a Syrian government checkpoint for hours, with little food or water, awaiting transport to the western Aleppo countryside. The United Nations reports as many as 50,000 civilians remain in the city as evacuation attempts continue. The Guardian reports that approximately 1,000 civilians in 25 buses had been evacuated overnight with another 20 buses still waiting at the government checkpoint.