4 TV show theme songs you didn't realize were written by Alan Thicke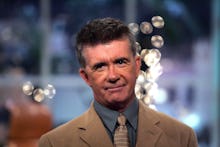 Alan Thicke, perhaps best known as Dr. Jason Seaver from Growing Pains, died Tuesday. A publicist for his son, Robin Thicke, said the cause of death was a heart attack, according to the New York Times. He was 69.
Beyond an extensive television career, a star on Canada's Walk of Fame and nominations for a Daytime Emmy and a Golden Globe, Thicke was also an accomplished songwriter. Thicke wrote theme songs for game shows and sitcoms, including The Joker's Wild, Celebrity Sweepstakes and the original Wheel of Fortune theme.
Below are four television themes written by the late Alan Thicke. 
The Wizard of Odds
The Wizard of Odds was a game show on NBC that aired from July 1973 to June 1974 and was hosted by Jeopardy! host Alex Trebek. The theme song, embedded below, features Thicke's iconic voice front and center.
Wheel of Fortune
Thicke also produced the original theme song to Wheel of Fortune, which aired in 1975. The jazzy, upbeat tune would open the show until 1983, when show creator Merv Griffin replaced it with his own theme.
Diff'rent Strokes
The theme song to Diff'rent Strokes is considered a "masterpiece" of the theme show genre, according to Thicke's obituary in the New York Times. In less than a minute, the song succinctly sets up the show's background story in which a white multimillionaire takes in two black children.
Thicke wrote the theme for Diff'rent Strokes with Emmy-winning producer Al Burton and actress Gloria Loring, Thicke's first wife.
The Facts of Life
Thicke also wrote the theme song to The Facts of Life with Burton and Loring. Loring sang two different versions of the theme, one which was used for seasons 2 through 6 and the other for seasons 7 through 9.