Vic Mensa shows solidarity with #NoDAPL protesters in the best way possible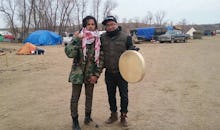 Chicago-based rapper Vic Mensa spent his Thanksgiving weekend joining the indigenous people's fight against the Dakota Access Pipeline at the Standing Rock Native American reservation.
Mensa, donning a white and red keffiyeh scarf, filmed his stand-in protests on Facebook Live. He urged his viewers to get involved in blocking the construction of the $3.7 billion pipeline that will transport over 470,000 barrels of crude oil per day through sacred indigenous lands. Opponents say the 1,172-mile pipeline could contaminate the area's water.
Mensa tweeted several powerful words on Monday, encouraging his followers to stand for the rights of indigenous people and against their oppression.
He also says that it's imperative to join Native Americans in protesting the Dakota Access Pipeline because it can set a precedent in the way oil corporations can contaminate the water supply of everyone.
Mensa also likens the movement in Standing Rock with the Black Lives Matter movement and fight for LGBTQ rights. The tweet emphasizes that these struggles are connected, and that to engage with one movement means you should engage with the others.
Mensa is expected to return to Standing Rock on Dec. 4, according to Variance, a music and entertainment online magazine.
This isn't Mensa's first time speaking out against injustice. In November 2015, the Kanye West protégé also joined the Black Lives Matter protests in Chicago after a video was released of Laquan McDonald, a black teen killed by Chicago Police Officer Jason Van Dyke. McDonald, as well as other victims of police-involved violence, was the main focus of his track and music video for "16 Shots" which was released in October.
A few days after the Pulse shooting in Orlando, Florida, Mensa recruited musicians Halsey, Lil B and Le1f to produce "Free Love." The nearly 6-minute track calls out the struggles of the LGBTQ community.
Watch Mensa's Facebook Live video from Standing Rock below: