'Overwatch' Cyber Monday 2016 Deals: Where to buy 'Overwatch' for the lowest price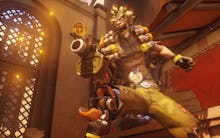 If you missed the $35 sale on Overwatch for Black Friday, don't worry — you can still snag Overwatch for much lower than its original $60 retail price for Cyber Monday 2016. Here's where you'll find discounted copies of Overwatch on PC, Xbox One and PlayStation 4.
Overwatch Cyber Monday 2016 deals on PC, Xbox One and PS4
The best deal you'll get across all platforms is through Amazon. Physical copies of Overwatch for PS4, Xbox One and PC are still on sale for that same $34.99 Black Friday price point.
If you prefer to download Overwatch digitally, Blizzard Entertainment is still selling PC copies of Overwatch at that same price on its website until Nov. 28 at 11:59 PST, or 2:59 a.m. EST on Nov. 29. 
You can also snag Overwatch digitally for PS4 on the PlayStation Store for basically the same price — assuming you have PS Plus, which you'll need to play Overwatch anyway. If you want a digital copy of Overwatch for Xbox One, you can get it for $35.99 on the Xbox Marketplace if you're an Xbox Live Gold member — which, like PS Plus, you'll need to play Overwatch in the first place.
Overwatch tips, tricks, guides and more: Everything you need to know
If you're finally hopping on board the Overwatch train, you'll want to check out Mic's latest Overwatch news, like Terry Crews' desire to voice the rumored new hero Doomfist, Mic's guide to playing Sombra, what new characters might be on the horizon, which characters players speculate will be revealed as LGBTQ and information on the months-long alternate reality game that led up to the reveal of Sombra.