Disney's 'That's So Raven' spin-off is 'Fuller House' with psychic powers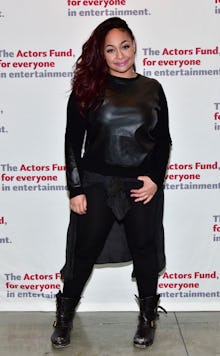 Details on the That's So Raven spin-off are finally here — and they sound suspiciously like the plot of Fuller House.  
Raven-Symoné starred in the Disney Channel original series from 2003 to 2007 as Raven Baxter, a teen with psychic powers. It was announced in October she'd be returning to reprise her role as Raven, but this time around, Raven's a divorced mom with two kids — one of whom has developed her special ability.
Now SpoilerTV has learned some new plot information about the spin-off. According to the site, the still-untitled show will revolve around Raven and her childhood friend Chelsea, played by Anneliese van der Pol. Chelsea and her son, Levi, have moved in with Raven and her kids, Booker and Nia. Both Chelsea and Raven's marriages fell apart, so they're now single moms living together. 
Does that plot sound familiar? If it does, it's because it's awfully close to Netflix's Full House reboot, Fuller House. On Fuller House, Kimmy moves into DJ's home to help take care of her three kids after the death of DJ's husband. Similar to Chelsea, Kimmy is divorced and brings her daughter along. The twist here, of course, is that Raven — and her daughter, Nia — possess psychic powers. 
But while the plots are alike, Disney does have a way of making its That's So Raven spin-off different from Fuller House. The latter has focused mainly on the series' adults, but details from SpoilerTV make it sound as if the former will concentrate instead on Raven and Chelsea's kids. Since the show will air on the Disney Channel, that's more in line with the approach taken by Girls Meets World, the Boy Meets World spin-off. 
However, it's important to note that particular approach wasn't exactly successful, as Girl Meets World was just canceled by the network. 
Production is underway on the new Disney series, with no premiere date set.