Ohio State University assault wounds 11, with knife-wielding attacker killed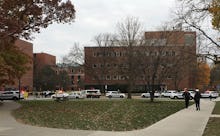 An Ohio State University student crashed a vehicle into pedestrians on Monday morning before attacking others with a knife, wounding 11 before being shot and killed by a university police officer.
Ohio State University's emergency management and fire prevention team tweeted a warning at 9:56 a.m. Eastern asking students and personnel to "run, hide, fight," a protocol for dealing with mass shootings in public places.
OSU's warning indicated the attacker was at Watts Hall, which the school website lists as a "materials science and engineering" building. Later reports revealed the attacker did not use a firearm in the attack.
The suspect has been identified as 18-year-old OSU student Abdul Artan, according to law enforcement officials who spoke to NBC News. There are conflicting reports as to Artan's nationality, with NBC News reporting he was a Somali refugee and the Associated Press reporting he was "a man of Somali descent."
As of 11:30 a.m. Eastern, OSU police told those in the vicinity via Twitter the shelter-in-place order was "lifted" and the "scene is now secure." Classes for the rest of the day at the Columbus campus have been canceled.
Twitter user Ben Slaton tweeted a photo allegedly from the OSU campus that appeared to show a body on the ground, guarded by emergency officials. Slaton followed his tweet 14 minutes later with the following post: "The police shot the person in my picture so I'm assuming that it was a shooter. People said that he had a knife."
(Editor's note: The following photo contains graphic imagery. View with discretion.)
"Right now we're all on lockdown and the building is right across from where the shooting happened — we heard about five shots," 20-year-old OSU student Akmal Salam told Mic from the Celeste Laboratory of Chemistry, approximately 30 minutes before the lockdown was lifted. "They've taped off the building and no one is allowed out." 
Salam added there were also reports of a knife attack. According to NBC News, a law enforcement official also described a knife attack.
"Apparently a guy drove his car into a class after they were evacuated from a fire drill and then he got out and started knifing people," Salam said. "So far we're told one person is dead — the attacker — and seven have been injured and taken to the hospital."
On Monday evening, Vice President-elect Mike Pence tweeted a short statement on the incident praising law enforcement for their "fast action," as well as briefly spoke with media assembled in the lobby of Manhattan's Trump Tower.
This story is breaking and will be updated.
Tom McKay contributed additional reporting to this article.
Nov. 28, 2016, 8:58 p.m. Eastern: This story has been updated.