'Pokémon Go' Thanksgiving Event End: Double XP and stardust dries up on Nov. 30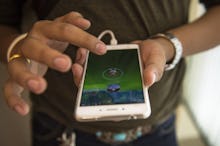 Did you gobble up bonus XP and stardust in Pokémon Go over the Thanksgiving holiday weekend? Good news: Turkey Day may be over, but the bonus points are still here.
The Pokémon Go Thanksgiving event ends on Wednesday, Nov. 30. That means you still have two more days to take advantage of these awesome bonuses.
Pokémon Go Thanksgiving event: You need stardust to account for the balance update
On Nov. 21, Niantic released a balance update for Pokémon Go that changed the stats for every species of Pokémon in the game but one (Lapras). Pokémon that were good gym attackers or defenders prior to the balance update may not be as powerful after the update.
That means you'll need to make adjustments in your attacker and defender lineups, which likely means training up some previously overlooked Pokémon. You'll need a ton of stardust to power up a bunch of different monsters, making the extra stardust from this Thanksgiving event a very well-timed blessing. 
You've still got a couple days to go, so grab all the stardust you can before the bonus point period runs out.
Pokémon Go hacks, tips, and tricks for resourceful players
If you were obsessively gathering stardust even before we told you that the Thanksgiving event is almost over, you may also want to check out Mic's Pokémon Go guides. Here's everything you need to know about finding the long-awaited Pokémon, Ditto, creating new PokéStops and how to maximize your chances of catching Pokémon. 
You can also check out our best gym attackers and best gym defenders guides. As trainers continue to test the results of the recent balance patch's changes to CP and attack/defense values for nearly every Pokémon in the game, we'll be right there training along with them and adding new and updated lists.