What time is the 2016 Rockefeller tree lighting ceremony in New York City?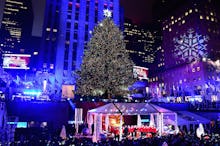 The Rockefeller Center Christmas tree seems to herald the holiday season in New York City. When the tree ceremony takes place on Wednesday, Fifth Avenue will appear complete for the shoppers and tourists who flock to the area as soon as Black Friday hits.
This year, you can witness the Rockefeller tree lighting ceremony at 30 Rockefeller Plaza on Nov. 30 from 7 p.m. to 9 p.m. Eastern. The ceremony will include live performances and, of course, the grand illumination. Folks across the country can watch the live telecast on NBC starting at 8 p.m. Eastern; a one-hour special prior to that will be available in select markets. 
Matt Lauer, Savannah Guthrie, Al Roker and Natalie Morales will host the special, which will feature performances from Josh Groban, Dolly Parton, Neil Diamond, Tony Bennett, Garth Brooks, Trish Yearwood and the Rockettes, among others.
Speaking of the Rockettes, in 2013, NBC's Today show did the math to calculate how many Rockettes would have to stand on top of each other to reach the top of the iconic tree. The answer? Thirteen, and the tower of dancers, who have an average height of 5 feet 8 inches, would still fall slightly short. That year, the Rockefeller tree was 76 feet tall — a comparatively small tree. 
This year's Norway spruce from Oneonta, New York, is 94 feet tall. The tree, which was scouted seven months ago, was so big that transporting it required two cranes and a 115-foot trailer. If the height alone is not impressive, then the tree's decor certainly should be: More than 50,000 lights will make the tree shine bright for the masses.