Man called "faggot" by store manager while shopping with his 4-year-old son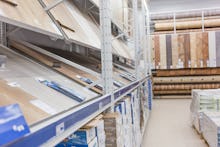 James Shawlin was picking up some stone slabs at a Floor and Decor in Highlands Ranch, Colorado, on Friday when an employee, allegedly a store manager, called him a "faggot that voted for Hillary" — in front of Shawlin's 4-year-old son Oliver.
Shawlin told local outlet KUSA that he and his son had been told by an employee to look through boxes to find the stone he needed for a project he was doing at home. But while he was looking for the right materials, a manager at the store came up to him looking "not too happy," Shawlin said.
As Shawlin told KUSA, he explained to the manager that he'd been directed to look through the boxes, and that he was a loyal customer at the store. "I just told him, 'Hey, you know, my husband and I spend a lot of money here. We've been using you guys for 10 years. We have $3,000 worth of stone,'" Shawlin said.
That's when the manager said aloud that Shawlin was a "faggot that voted for Hillary." 
In a now-inaccessible Facebook post, Shawlin called the incident "horrific" and said customers "joined in" to support the manager. He told KUSA that one customer who saw the exchange brought up Donald Trump and followed Shawlin outside. 
Shawlin said he called his husband crying. "I'm 44, I've been out for a while, I grew up in rural Wisconsin, I've heard it all," he told KUSA. "But when you have a child that's so young that doesn't understand, it's pretty traumatizing."
He said on Facebook that the incident left him "shocked, hurt and very upset." But sharing his story appeared to rally support for Shawlin and his family; by Monday afternoon, the Yelp page of the Highlands Ranch Floor and Decor had been flooded with negatives reviews — many from customers who said they planned to boycott the store after hearing about the incident.
A Floor and Decor spokesperson told KUSA on Friday that the company was conducting an investigation. In a series of tweets, Floor and Decor said that the "Indiv is no longer employed by F&D," and added, "We are an inclusive and diverse co. & committed to treating all with courtesy & respect."
In a phone call Monday, Floor and Decor spokesperson Alexander Gervin confirmed that "the individual at issue is no longer employed by Floor and Decor." 
"One other piece that we would like to convey is that we are an inclusive and diverse company," Gervin added.
An additional representative for the company reached out to confirm again that the employee involved no longer works for the company and that Floor and Decor had reached out to James Shawlin to apologize to him and his family, and shared a statement from the company that said, in part:
On November 25, 2016, we became aware of an unfortunate incident in one of our stores involving two customers and one of our associates.  We conducted an internal investigation to determine the facts and took prompt action. We spoke with the customer the next day and apologized for his experience in our store.  We further apologize to his family and the community for what took place.  Our ethics code and our employee training make clear we do not tolerate any form of discrimination or harassment based on, but not limited to race, color, religion, age, gender, sexual orientation, national origin, marital status, disability or genetic information.  The associate at issue no longer works for us, and we look forward to improving our sensitivity training for all of our employees and providing the highest level of customer service to all members of the communities that we serve.
Shawlin's experience at Floor and Decor is just the latest in a series of reports of hate speech and harassment that have been reported across the U.S. in the weeks following the presidential election. 
In Brooklyn, swastikas appeared in a playground, accompanied by the phrase "Go Trump." In Florida, a Trump supporter blamed slow service on anti-white discrimination and berated the staff. In Chicago, a woman who refused to pay extra for a reusable bag at a store yelled about her support for Trump and accused black employees of discriminating against her.
Speaking to KUSA, Shawlin said his intention in sharing his experience at Floor and Decor wasn't "about me getting somebody in trouble." 
"I just want to make people aware of what's going on in the community," he said.
Nov. 29, 2016, 11:53 a.m.: This story has been updated