How to get to Cuba: Flights from the US, travel restrictions and more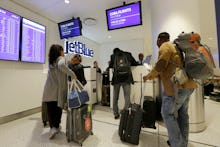 When President Barack Obama announced the end of 54 years of diplomatic estrangement between the United States and Cuba, a bevy of American tourists has flown to the island. According to Reuters, American visits to Cuba rose 77% to 161,000 in 2015, not to mention the hundreds of thousands of Cuban-Americans who visit their relatives. 
If you're fantasizing about what a real mojito tastes like, or if you want to walk along the legendary malecón, here are some tips for your trip to Cuba:
Flights from the United States 
On Feb. 16, the United States and Cuba signed an agreement to resume flights between the two countries. After this announcement, a slew of U.S. carriers submitted applications to choose the routes they wished to fly between the two nations. JetBlue carried out the inaugural flight to Cuba in more than 50 years. 
Scheduled U.S. flights to Cuba have grown rapidly this year. In addition to Jetblue, U.S. carriers such as American Airlines, Southwest Airlines and smaller carrier Silver Airways also began regular flights to the island and are hoping to expand new routes this year, according to CNN Money. United Airlines and Delta Airlines will begin commercial flights this week, CNN Money reported. 
Frontier Airlines and Spirit Airlines announced it would offer flights to Cuba starting Thursday. Meanwhile, Alaska Airlines will begin daily commercial flights to Havana in January 2017. 
Travel restrictions
Before you start booking your trip, keep in mind that some restrictions are still in effect. U.S. tourism in Cuba is still considered illegal; however, the Office of Foreign Assets Control has offered 12 categories of authorized travel to, from, and within Cuba, including journalistic activities, public performances and humanitarian projects. According to CNN, U.S. travelers must sign an affidavit that ensures their travel falls under the 12 categories. 
Lodging 
Cuba received more than 3 million tourists last year, up 17.4% percent from 2014, according to Reuters. While this means good news for a country that sorely needs foreign investment, Cuba's tourism system seems unprepared to receive large groups of visitors. Cuba's tourism infrastructure, which accounts for 63,000 rooms across the country, is currently underdeveloped due to U.S. sanctions against the island. In fact, many tourists are having trouble booking hotel rooms and car rentals, Reuters reported. 
Nevertheless, Airbnb can provide a solution to such a high demand. The San Francisco-based hospitality company launched its platform in Cuba since April. Today, Airbnb relies on 4,000 casas particulares, or traditional Cuban houses available for booking. Check Airbnb's website for more details.