Netflix December 2016 Releases: 12 new additions to binge watch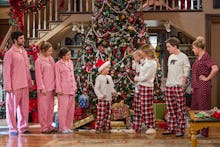 "Netflix and chill" takes on a new meaning when the temperatures drop and leaving home requires more layers than your mother's Christmas Day breakfast casserole. But staying indoors doesn't mean you have to be bored. Netflix's newest titles are here, and — with everything from family-friendly holiday favorites to NSFW comedies — they're perfect for cold-weather binge-watching. 
Barry 
If you're not ready to say goodbye to President Barack Obama and have already read everything written by and about him, Dec. 16 is the day to turn on your TV. This drama, starring Devon Terrell, looks at Obama's years as a student at Columbia University in the 1980s as the idealistic young man struggles with social and racial tension and begins to carve out his identity and his path to the White House. 
Fuller House season two 
The Tanners are back, and they're wackier than ever in the second season of Fuller House, which features sisters DJ and Stephanie and their respective children living in the iconic San Francisco home. After its hotly anticipated first season, the tight-knit family returns Dec. 9 to witness wholesome father Danny facing a late-in-life crisis that involves some very questionable fashion choices, numerous family musical numbers and a possible romantic union between the Gibblers and the Tanners. 
White Rabbit Project 
A new, unscripted series from the supporting cast members of Mythbusters known as the build team, this series falls down the rabbit hole Dec. 9. Starring Grant Imahara, Tory Belleci and Kari Byron, White Rabbit Project will feature the builders/scientists exploring mysteries from pop culture and history, including jail breaks, heists and World War II weaponry. 
Homeland season one 
Political junkies going through withdrawal now that the election is over can satisfy their cravings by binging on the first season of the suspense thriller Homeland — which will hit Netflix on Dec. 6 — and watching CIA operations office Carrie Mathison follow her suspicions that a prisoner of war has turned on America. Illegal surveillance, steamy affairs and endless secrets and lies abound in her plight to uncover the truth. 
Captain America: Civil War 
If watching superheroes do battle is more your stye, who better than Robert Downey Jr., Scarlett Johansson and Paul Rudd to do it? And on Christmas Day, no less? This action-packed movie is available Dec. 25 and follows the Avengers as they divide into opposing factions over disagreements about international oversight of their group. When its Iron Man vs. Captain America, how are you supposed to choose? 
Spectral 
This action and sci-fi film about a scientist searching to learn more about phantom aggressors in a war-torn city hits Netflix Dec. 9. Emily Mortimer, Bruce Greenwood and James Badge Dale star. 
Honey, I Shrunk the Kids 
If you'd rather watch family-friendly sci-fi, this Disney film, available Dec. 1, is just the thing for a cozy movie night. Rick Moranis plays Wayne Szalinski, the inventor-next-door whose shrinking machine just won't work — until it does, at exactly the wrong time. After Szalinski and his neighbor's children are shrunken to a quarter of an inch tall, they have to find their way home through the backyard, facing obstacles like enormous insects and the most horrifying scene involving breakfast cereal ever caught on film. 
Angry Birds Movie 
Available Dec. 1, this animated film based on a popular video game shows how three unlikely heroes come together to save the day. While this may not seem like a top choice to those unfamiliar with the game, the movie features voiceover acting from a cast that includes Saturday Night Live vets and current stars Jason Sudeikis, Bill Hader and Kate McKinnon, so there are bound to be laughs for any audience, adult and kid alike. 
Animal House 
"Toga! Toga!" may be a surprising chant for the holidays, but this National Lampoon classic is the perfect choice for all seasons and occasions. This raunchy comedy, available Dec. 1, about a misfit fraternity who dare to challenge the authority of their college's stuffy dean, is packed with moments of pure comedic gold and is guaranteed to inspire memories of college misadventures. Watch with Mom and Dad, and you may learn a thing or two about their lives before you were born (for better or worse). 
D2: The Mighty Ducks 
The sequel to 1992's The Mighty Ducks hits Netflix on Dec. 1. D2 finds Gordon Bombay coaching Team USA in the Junior Goodwill Games. Reunited with many of his Ducks, he's distracted by the temptations of a luxurious lifestyle. Keep an eye out for cameos by Kristi Yamaguchi and Kareem Abdul-Jabbar. The film may inspire you to hop off the couch and hit the ice yourself. 
Girlfriend's Guide to Divorce season two
If you're tired of relatives asking, "Seeing anyone?" this is just the show to escape into, and it hits Netflix Dec. 1. Follow self-help author Abby McCarthy as she navigates life after marriage, taking on the role of the "face of divorce" at her job and sneaking in some secret hookups with her ex when she's off the clock. 
Reggie Watts: Spatial 
This comedy special, which is available Dec. 6, is "not for the faint of heart," according to its star. The completely improvised performance, which includes dream sequences alongside several skits and short stories, is sure to ease any family tension or cheer you up when the cold weather's got you down.