'Gilmore Girls: A Year in the Life' works because it never forgets Richard Gilmore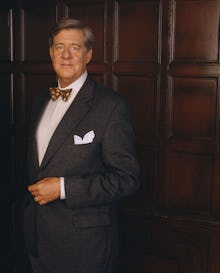 When actor Edward Herrmann died on New Year's Eve 2014, Richard Gilmore died, too. True, in Gilmore Girls: A Year in the Life, Netflix's four-part revival miniseries of the early 2000s WB show, Richard only died in late 2015. But when Herrmann passed, any potential future for his character disappeared.
In 2016, when Gilmore Girls' Amy Sherman-Palladino and Netflix partnered to produce four new 90-minute installments, Richard's absence left an immediate question to consider: How would the series handle it? Would Richard truly die, or would there always be a convenient excuse for him not to be there? Would Gilmore Girls' second life serve both Richard and Herrmann's memories well?
In short: yes. One could argue that A Year in the Life works because it uses Richard's memory as the backbone — as the heart — of the miniseries.
[Editor's note: Spoilers ahead for all of Gilmore Girls: A Year in the Life.]
The core of A Year in the Life is a deceptively simple one: Three generations of Gilmore girls are at a crossroad in their respective lives. Grandmother Emily is grieving her husband, unsure of what her life is without him. Mother Lorelai is as settled as she's ever been, but uncomfortable. Daughter Rory is the most at sea, with a stalling career and a boyfriend of two years whom she constantly forgets about.
Even though Emily's is the only story directly focused on Richard's passing, his shadow looms over all three. Lorelai has become more acutely aware of her mortality, and her Wild-esque journey to discover herself in "Fall," the series' final episode, results in a teary-eyed phone call with her mother sharing a memory of Richard. 
In the same episode, Rory sees Richard (portrayed by the late Herrmann himself via archival footage) for a brief moment seated behind his desk in his study. She takes her own place there to write her book (aptly titled The Gilmore Girls), but not before paying tribute to the man who loved and believed in her above all else.
That shot is the only appearance of Richard's "ghost," so to speak, even though his visage is all over the miniseries. He's in the garishly large portrait Emily accidentally ordered for her living room — a feature that's at first played for a joke, but becomes heartwarming when Rory gives it a kiss on her way to his study. "Hi Grandpa," she says, echoing herself from so many years before.
A lesser series might have avoided engaging with Richard's memory at all — but Gilmore Girls: A Year in the Life embraces these girls' grieving processes in full. Lorelai fails to give a fitting eulogy at Richard's wake, and thus the ugliness between she and Emily rises to the surface once again. Emily is listless and lost, and the show even follows her and Lorelai to therapy together.
It's not easy, but Gilmore Girls has never been afraid to dig into the difficulties of family dynamics. It follows that losing one of the Gilmore family's pillars would inspire some of the show's best work.
Richard's death gives the series a center, a point to orbit everything else around. Rory's listlessness, Lorelai's inability to truly settle and Emily's need to Marie Kondo her life all take on new significance in these circumstances. They're all in desperate need of coping — and in desperate need of each other.
The series isn't flawless, but while it sacrifices technical perfection it excels in truly delving into the messy, complicated emotions of its three leading women during one of the most difficult times in their lives. That alone makes A Year in the Life essential viewing for Gilmore fans and newcomers alike.