Cuba Travel: Your guide to tourism services, visa info, travel agencies and more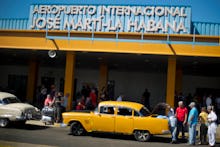 In the wake of Fidel Castro's death and President Obama's continued easing of restrictions on U.S.-Cuba relations, the future of Cuban travel for American citizens has never looked so bright. On Aug. 31, a JetBlue flight touched down in in Havana, marking the first commercial flight from the U.S. to Cuba in five decades. Other major airlines will soon be following suit.
Thanks to the recent relaxation of travel sanctions on Americans traveling to Cuba (travel to Cuba via cruise has been available since May), the National Statistics Office in Cuba reported tourist levels rose by 15% in the first six months of 2016, as compared with the same period in 2015, according to the Telegraph. The number of visitors coming from the U.S. rose by 80%, with American visitors now making up the third-largest group of foreigners in the country.
Given Castro's death and the general uncertainty over how President-elect Donald Trump will handle the continued relations between the two countries, it's hard to say how travel to Cuba will fare in the coming years. And while it's now easier to travel there than before, there are still a number of restrictions in place.
Here's what you should know about traveling to Cuba, as of November 2016.
Who can go to Cuba?
To make your way to Cuba without a specific visa or license, American travelers must fall into one of 12 categories listed on the U.S. Department of the Treasury's website, including those making family visits, those on official business of the U.S. Government and those partaking in educational or religious activities, among others.
This means that regular tourists are still prohibited from traveling to Cuba. American visitors can, however, travel to the country on a "people-to-people" itinerary, which would fall under the category of educational activities. People-to-people travels — which can be booked with the help of a travel agent, as part of a group tour or on your own — should be focused on engaging directly with the Cuban people. 
The Treasury Department notes that anyone undertaking this type of travel must "maintain a full-time schedule of educational exchange activities intended to enhance contact with the Cuban people, support civil society in Cuba, or promote the Cuban people's independence from Cuban authorities, and that will result in meaningful interaction between the traveler and individuals in Cuba." 
Flights to Cuba
While American visitors previously had to rely on special charter flights or stealth trips through other countries to make their way to Cuba, the journey to get there is now fairly easy. Airlines that now — or will soon — offer flights to Cuba include American Airlines, Delta, JetBlue, United, Alaska Airlines and Southwest.
Flights will mostly be operated out of airports in Florida and the New York metropolitan area, though other flight origins will include Minneapolis, Charlotte, Atlanta and Chicago. For travelers on the West Coast, Alaska Airlines will offer one daily flight to Havana from Los Angeles. In addition to Havana, American travelers can also fly into other Cuban cities, including Santiago de Cuba, Camaguey, Santa Clara and Veradero. 
If you'd rather travel by sea than air, Carnival Cruises operates a seven-night cruise between Miami and Cuba, which runs every other week and stops in Havana, Cienfuegos and Santiago de Cuba.
Visas for traveling to Cuba
The 12 categories for legal travel to Cuba are all covered by a general license under the Office of Foreign Assets Control, which means travel is automatically authorized without the need to apply for a separate license.
Most foreign visitors, including Americans, do need to purchase a Cuban Tourist Card in order to enter the country, which is valid for 30 days after arriving in Cuba. These tourist cards can be purchased in a variety of ways depending on how you're traveling. 
JetBlue passengers can purchase the tourist cards at the airport before boarding their flight to Cuba for $50, as can those flying on Delta — price to be announced. American Airlines passengers, meanwhile, should get a tourist card in advance for $85 plus shipping through third-party travel agent Cuba Travel Services. 
If you're coming in from other North American countries, the process is even cheaper: Air Canada gives out the tourist cards for free during the flight, and cards can be purchased at airports in Mexico for $20. Travelers should check with their individual airline before traveling to make sure of their policy. If you're traveling using a group tour service, your tourist card will likely be arranged through them before you depart.
If you'd like to purchase your tourist card in advance, they can also be arranged through the Cuban Consulate either in person or by mail, or through a third-party organization. Companies offering Cuban Tourist Card services include VisaCuba.com, CubaVisa.com, CubaVisa.uk and CubaCenter.com.
Travel Agencies/Services
Given the relative difficulty of Cuban travel, using a travel agent or tour service for your Cuban vacation may benefit even the most staunchly independent traveler. Because of this, there are many Cuba-specific tour companies and agencies out there. Considering its partnership with some of the biggest major airlines, Cuba Travel Services is likely to be your best bet in terms of booking your flight and other travel reservations individually.
If you'd rather travel as part of a group, there are many authorized travel providers offering tours to suit all ages and interests. Some of the companies recommended by Fodor's include Insight Cuba, which has been offering a variety of Cuban tours since 2000; Cultural Explorations Cuba, whose specialty tours center on such themes as Cuban art, Judaism and LGBT issues; and culinary specialists Access Trips and Drod Culinary Adventures. 
You can find more tour recommendations here from About Travel.
Where to Stay
Decent hotel rooms are still somewhat scarce in Cuba, though major American companies like Starwood and Marriott are now making their way to the island. Because of this, some of the best places to stay can be found at local bed-and-breakfast accommodations, known in Cuba as casas particulares. Though there are hundreds of these locations throughout the island, they're small and hard to find. Travelers hoping to stay at one of these spots can search on TripAdvisor or book through a travel agent or Airbnb, which began establishing a presence in Cuba last year.
Know before you go
All travelers to Cuba are required to have valid health insurance. Since the country doesn't accept U.S. health insurance, all American travelers must purchase some form of temporary insurance that will cover the duration of their trip. If you haven't taken care of it before you've arrived, Fodor's notes that insurance provider Asistur sells temporary policies in the arrivals area of the airport for a price of CUC$3 per day.
Pesos (CUP) and the convertible peso (CUC) are the two forms of currency in Cuba, with the CUC being roughly on par with the U.S. dollar in terms of value, and the CUP being worth about 25 times less. CUC will be used for most travel expenses on your trip, while CUP are used for more basic amenities and food. 
Having cash on hand is necessary — though MasterCard and Visa are now technically accepted in Cuba, most American credit and debit cards will likely be difficult, if not impossible, to use. You can exchange money for CUC at the airport — however, exchanging U.S. dollars incurs an extra 10% fee that doesn't apply to other forms of currency.
Visitors to Cuba now have more freedom to do what they want with their money. In October, the U.S. government lifted a restriction on souvenirs that limited any imports travelers brought back to total $400 or less, with an $100 limit specifically on alcohol and tobacco (namely: Cuban cigars). 
Imports can only be brought back for personal use, but spending restrictions no longer apply. So while booking your trip to Cuba may still be a hassle, at least you'll now be able to come back with plenty to remember it by.