One Direction Update: Niall Horan comments on split rumors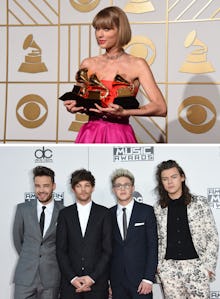 The One Direction boys are trying to do their own thing. After Zayn Malik left the group in 2015 and released his debut album Mind of Mine, Harry Styles, Liam Payne and Niall Horan have also decided to focus on working solo. Payne and Styles have both signed recording contracts and Horan recently dropped his single "This Town." Considering the diverging paths of the members, what's going to happen to One Direction?
Well, fans of the band — chemically engineered by Simon Cowell and co. on the British competition series The X Factor — are in luck. Despite being on hiatus since the beginning of 2016, after dropping their fifth record Made in the A.M. in November 2015, it looks as though a reunion is not out of the question.
"We will back. We would be silly not to... ridiculous," Horan told the Sunday People at a red carpet event. "I don't think anyone needs to worry about us, we are fine." 
Horan's reassurance comes after rumors that a reunion was never in the works and that the hiatus was a thinly veiled break up. Alas, it looks as though hope is not lost for all the One Direction stans out there.
"At the moment we are all doing our own thing. Harry wanted to do his movie and everyone is just chilling," Horan added.
To update you on what each of the four One Direction members have been up to: Horan recently performed "This Town" on The Ellen DeGeneres Show, Styles will appear in Christopher Nolan's upcoming Dunkirk, Payne is in the studio and Louis Tomlinson is a daddy. 
And just in case you were worried about any animosity between the members, Payne tweeted out this anniversary photo earlier in November.