'Final Fantasy 15' Release: Midnight launch, release time and preload info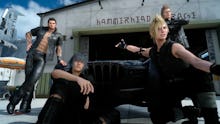 Final Fantasy 15 is one of the most highly anticipated games of the year, so you're probably feverishly wondering exactly when you'll be able to preload it and start playing. If you can't wait for stores to open on the morning of its official Nov. 29 release you can start playing promptly at midnight, provided you've preordered and downloaded it ahead of time.
Here's everything you need to know ahead of Final Fantasy 15's highly anticipated release.
Final Fantasy 15 preload
If you've preordered Final Fantasy 15 ahead of its Nov. 29 release date through the PlayStation or Xbox digital store, you should already be able to start downloading it. You'll need all the time you can get: The total file size hovers around the 50GB mark.
If you preordered Final Fantasy 15 for PS4 but aren't sure whether it's started downloading yet, you can check your active downloads through the notifications menu on the main navigation bar at the top of the PS4's home page. If you don't see Final Fantasy 15 there, go to your game library — the folder on the far right of the large central menu — and initiate the download manually. (While you're there, you should also make sure that your PS4 is configured to download future updates automatically — instructions for which are available on PlayStation's site.)
If you're downloading on Xbox One, Final Fantasy 15 should be automatically added to your download queue once you've processed your preorder. You can make sure it's downloading by navigating to the "My Games and Apps" menu. If you need help troubleshooting issues with your preorder or initiating the download, check out Xbox's support page for instructions.
Final Fantasy 15 midnight launch and release time
If you preordered Final Fantasy 15 on PS4, you should see a little countdown clock underneath the game's icon on your home page that indicates exactly when you'll be able to start playing. It probably corresponds to midnight local time, but it may be calibrated to midnight Eastern or Pacific time. You can see a video of this timer in the video below.
If you preordered on Xbox One, the answer is basically the same. The below video from Xbox support says the game should unlock at midnight local time.
Also, if you live in the UK, GAME is hosting a number of Final Fantasy 15 midnight launch parties. Check out the GAME website for the specifics.
Final Fantasy 15 reviews, trailers and more: Everything you need to know
While you're waiting for Final Fantasy 15 to finish downloading, check out Mic's review roundup, watch the psychedelic "Omen" trailer and see Conan O'Brien's reaction to the game on his show.