Everything you need to know about HBO's 'Big Little Lies'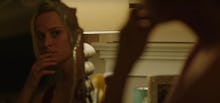 With Westworld wrapping up and Game of Thrones premiering in 2017, HBO is in dire need of a solid drama. Fortunately, the network has announced the release date for its upcoming miniseries Big Little Lies. The Reese Witherspoon-starring series will premiere on Feb. 19.
A teaser trailer for the series dropped in October, and from the looks of it, Big Little Lies appears to be a darker, sexier, more violent Desperate Housewives — a Desperate Housewives for the premium cable crowd. David E. Kelley (Ally McBeal, Boston Legal) created Big Little Lies, and all seven episodes will be directed by Jean-Marc Vallée (Dallas Buyers Club, Wild).
Here's everything you need to know.
The plot and cast
Big Little Lies is an adaptation of the 2014 novel by Liane Moriarty. Along with the teaser, HBO gifted a brief synopsis of the miniseries on its website:
Subversive, darkly comedic drama Big Little Lies tells the tale of three mothers of first graders whose apparently perfect lives unravel to the point of murder.
Witherspoon, Nicole Kidman, Shailene Woodley, Laura Dern, Adam Scott, Alexander Skarsgard and Zoë Kravitz make up the main cast. Both Witherspoon and Dern worked together with Vallée in the 2014 film Wild. The actresses received Oscar nominations for their performances. 
If the book is anything to go by, Witherspoon will play Madeline Martha Mackenzie, a mother whose child goes to school with Kidman's Celeste Wright's twins. Woodley will play Jane, a new young mother with a troubled son.
Witherspoon and Kidman are more than just cast members
Kidman's production company Blossom Films will produce the series, and she will serve as executive producer. Witherspoon will also serve as an executive producer and will do this through her production company Pacific Standard.