Meet the U.S. senator pushing to make Donald Trump use a real blind trust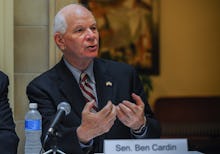 Maryland Sen. Benjamin Cardin, the ranking Democrat on the Senate Foreign Relations Committee introduced a Senate resolution Tuesday calling on President-elect Donald Trump to either divest of his business empire or put it in a true blind trust, citing the many financial conflicts of interest that could cause Trump to violate the Constitution while in office. 
"The resolution would make it clear that President Trump should put his assets into a blind trust, in order to avoid violating the emoluments clause as well as the perception of violating the emoluments clause," Cardin said.
The Constitution's emoluments clause prevents officeholders from accepting favors or gifts from foreign entities without Congressional approval.
Critics, including former White House ethics lawyer Richard Painter, argue that many of Trump's deals with foreign entities — including a state-controlled Chinese bank leasing space in Trump Tower — would create opportunities for unconstitutional financial favors to pass to the president-elect once in office.
"If you look at the Federalist Papers, if you look at the comments people had during the writing of the Constitution of the United States, this clause ... was very much debated and very popular and important because they were worried that foreign powers may try and influence the president," Cardin said.
In response to criticism, Trump has so far pointed only at a separate federal law that exempts the president from strict rules about avoiding conflicts.
In an on-the-record conversation with the New York Times, Trump said "the law's totally on my side, the president can't have a conflict of interest." Trump did not specifically acknowledge the emoluments clause or the potentially unconstitutional conflicts inherent in his foreign deals.
As for blind trusts, Trump has repeatedly said he would let his children manage his business once he is president — the problem, experts point out, is that in order for a trust to be truly blind, it would need to be managed by an outside trustee, with sufficient opacity so the president could not steer policy for personal enrichment.
Trump argues it would be trickier for him to place his assets into a blind trust than has been for presidential predecessors, since the Trump fortune is tied up in real estate and investments across more than 500 companies — which can't be sold and packaged away as easily as stocks and bonds: He told the New York Times that selling his company would be "a very hard thing to do."
It certainly might lose Trump money, since he'd have to liquidate quickly.
"If we come up with this baseline for Trump, we're going to create a bar — a serious disincentive — for any entrepreneur to run for president," David Rivkin Jr., a Justice Department attorney under Presidents Ronald Reagan and George H.W. Bush, told CNNMoney.
But divesting may also be a price Trump has to pay if he ever wants to put the question behind him permanently. Cardin said it's "inconceivable" Trump wouldn't run afoul of the emoluments clause eventually, given the way his business is structured.
"We know that in other controlled economies, businesses don't get permits without a special favor," Cardin said. "We've already seen this play out with foreign diplomats who are saying they're staying in his hotel to curry favor, that's just not something that we want to see."
If Cardin's resolution were to pass and Trump were to comply — an arguably unlikely scenario, since the resolution is nonbinding — then the hope is that Trump will feel pressure to address the conflicts of interest himself in advance of his inauguration: By making it clear Congress will treat business conflicts as a constitutional issue, it would signal to Trump that he could face greater threat of impeachment once he assumes office on January 20th.
Cardin's resolution is one of the first of what will likely be many examples of backlash from Congressional Democrats against Trump's conflicts — though the passage of Cardin's non-binding resolution will also be hindered by what's expected to be a busy lame-duck session.
Several legal experts, including Painter and the chief ethics lawyer for Barack Obama, have also raised concerns about Trump's conflicts, though Cardin may have an uphill battle convincing congressional Republicans to speak out.
With the exception of one Michigan congressman, members of Trump's own party have been "noticeably quiet" on the issue, as the Washington Post reports.
If Cardin's resolution is unsuccessful, then Trump's opponents could still pin their hopes on other Congressional levers: The New York Times points out, for example, that legislators could potentially remove the exception for presidents that's written into the Ethics Reform Act of 1989 — the law that Trump seemed to be citing when he claimed presidents "can't have a conflict."
And while perhaps unlikely, it's not unfathomable that Cardin will find the votes he needs to pass his resolution in the Senate. Republicans hold a slim majority there, with only 52 seats, eight of whom refused to endorse Trump during the race.
Cardin expressed optimism that his resolution would get bipartisan support: "This is not a partisan issue," Cardin said. "This is a matter of the strength of our president and his ability to lead America."
A spokeswoman for President-elect Trump's transition team did not respond to request for comment. 
Nov. 29, 2016, 6:10 p.m.: This story has been updated.