A 'Charmed' prequel series is in development at the CW and Twitter is freaking out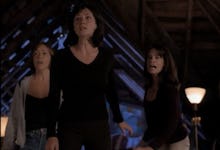 The power of three will set us free and bring us a Charmed prequel series. 
A few years after CBS's attempt at a Charmed reboot failed to cast a spell and get the green light – and did not get the approval of Alyssa Milano, Shannen Doherty, Holly Marie Combs or Rose McGowan — it looks like the CW is trying its hand at a Charmed prequel series. Buzzfeed's Jarett Wieselman confirmed the news on Thursday:
.... And Twitter is freaking out: 
According to Season-Zero.com, Jane the Virgin creator Jennie Snyder Urman and producer Brad Silverman are working on the prequel series. It will take place in the '70s and will be centered around three witches (of course) from the original Halliwell sisters line of ancestry.
The pilot script is being written by a team who has had their hand at other prequel series before. Amy Rardin and Jessica O'Toole, the minds behind the CW's short-lived Sex and the City prequel series, The Carrie Diaries, are working on it. Brad Silberling – director of episodes of Jane the Virgin and the Lemony Snicket: A Series of Unfortunate Events movie – is set to direct. 
Charmed ran for eight seasons on the WB from 1998 to 2006. The show originally starred Alyssa Milano, Shannen Doherty and Holly Marie Combs as the Halliwell sisters. Rose McGowan replaced Doherty when she left the show after its third season as their forgotten sister. 
All eight seasons of Charmed are currently available for streaming on Netflix.