Omarosa Manigault's greatest 'Apprentice' and other reality show moments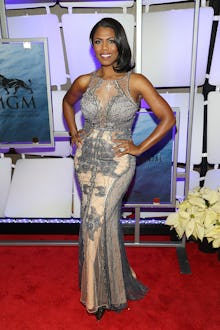 The Apprentice star Omarosa Manigault is joining President-elect Donald Trump's administration for a job involving public engagement, according to reports.
Although Manigault worked for Trump during his campaign as his African-American outreach director, she's most famous for her time on reality TV shows like The Apprentice, The Celebrity Apprentice (twice), The Surreal Life and Fear Factor.
She has had a long career of making enemies on those reality shows, often getting into fights with the other contestants. While it remains uncertain how she'll perform as part of Trump's administration, her career as a reality TV star is probably telling. Here are Omarosa's top moments in her reality show history.
Omarosa vs. Piers Morgan 
She battled Piers Morgan on The Celebrity Apprentice's first season in 2008 for a boardroom to remember (she was first introduced on The Apprentice in 2004). The two fought over who should be fired as a result of their team losing the task. She placed blame on Lil Jon and Dennis Rodman for not raising enough money during their challenge, but Morgan wasn't having it. He said she was not a celebrity and because of that she couldn't get any noteworthy celebrity memorabilia, assisting in her team's loss. 
Omarosa vs. La Toya Jackson
The Celebrity Apprentice season 13 was an especially tumultuous one for Omarosa. In the 2013 series, she got into it with many of her cast members, but one of the greatest feuds was with La Toya Jackson. The two fought over what Omarosa's role should be for the task — a skit. Omarosa wanted to act and acquire set materials, while Jackson wanted her to help write the script. When Jackson told Omarosa to "be quiet," the argument escalated, with Omarosa threatening to "take [her] down." The fighting prompted Dennis Rodman to leave the table, while Lil Jon simply stared on in disbelief. Ultimately, the battle ended after Omarosa stormed out of the room to go shopping for project materials with several of the other contestants.
Omarosa vs. Everyone
Omarosa's claim to fame was being on the original season of The Apprentice in 2004. She instantly became the villain of the season, getting into fights with multiple cast members. Omarosa had beef with Ereka Vetrini, who claimed the now-infamous reality TV star was "after me for whatever reason." When Vetrini called Omarosa "sweetie pie," things only got worse. 
In another vicious exchange, Omarosa said Vetrini was "emotionally unstable." Vetrini responded, "That is like calling the kettle black," and Omarosa took the common phrase as a racial insult.
"See there you go with your raceless — racist terms," Omarosa said. "What was that you said about black people? Try to contain your prejudice, okay? You're very intimated by black women, right?"
But Omarosa didn't just clash with Vetrini. When Katrina Campins tried to talk to her about her attitude "because [she] cares," Omarosa responded by telling her, "I didn't come here to make friends. I said that from day one." 
Omarosa vs. Janice Dickinson 
In the 2005 season of The Surreal Life, Omarosa realizes just how dangerous it can be to give Janice Dickinson a knife. In season 5, episode 8, Dickinson wields a large knife, posing for the cameras near Omarosa, much to her chagrin.
"Giving Janice Dickinson a knife was like giving a 3-year-old a machine gun," Omarosa said afterwards.
Thankfully, no one was hurt, but the knife incident is a moment in reality TV history to remember. 
Omarosa vs. the water
Never one to shy away from any reality TV opportunity, Omarosa made an appearance on Fear Factor in 2005. While there weren't any incidents with fellow cast members, she did get into a nasty fall with the water as a result of trying to pull herself across a tightrope, proving you can't win every battle. 
Bonus: Omarosa vs. Bethenny Frankel
While it's not a reality show, Omarosa's appearance on Bethenny Frankel's short-lived talk show, Bethenny, which debuted in 2012 and only aired for only 2 seasons, is maybe her greatest TV contribution. The interview got heated when she suggested Frankel was given more of an opportunity because she is white, rather than having any notable skills or talent. 
"It's different for you and I," Omarosa said to Bethenny. "I'm an African-American woman. You get to walk around and be mediocre and you still get rewarded with things. We have to be exceptional to get anything in this business."
The audience turned on Omarosa, booing her and scowling, but Omarosa trudged on anyways.
"Boo I'm here. I'm here," she said. "The truth is, 10 years later I'm still sitting here — 10 years later. I want to see you here, still, this show, Bethenny, a year from now."