The XX has been mailing fans free tickets to their 2017 North American tour dates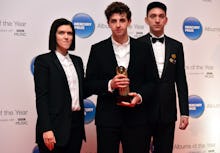 The XX just took a page from Willy Wonka's book of promotional tools and have been mailing out free tickets to their upcoming North American tour to fans. 
The band, whose new album, I See You, comes out on Friday, Jan. 13, is going on tour this summer. There is no official announcement, except for the lucky fans who were mailed their free tickets. 
While there is no official North American tour scheduled for the band and no tickets currently on sale, according to the fans who've received their free tickets, a few dates are already confirmed. The band executed a similar strategy for their UK and European tour dates in November. 
Pitchfork is reporting that the confirmed United States shows so far are in Dallas, Texas, Portland, Maine, and Philadelphia.