'High School Musical' fans are freaking out over Vanessa Hudgens and Ashley Tisdale's duet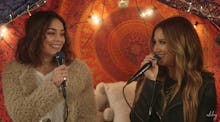 There is a lot to look forward to this year: Lady Gaga's Super Bowl Halftime Show, Beyoncé headlining Coachella and all the upcoming albums we can't wait for. But what we didn't expect so early into the new year was a High School Musical reunion — of sorts.
High School Musical stars Ashley Tisdale and Vanessa Hudgens reunited for a musical duet on Tisdale's aptly titled "Music Sessions YouTube Series."
In her latest video, Tisdale gives her fans a much longed for duet with her co-star and bestie, proving that they were truly all in this together. Tisdale's best friend joins her for a delightful cover of Elle King's "Ex's & Oh's." 
After introducing her pal, Tisdale notes that this is their first duet — they never had a song together in any of the High School Musical movies and always wanted one, she reveals before the two start singing. The pair softly sing their way through the cover in an indoor blanket fort while they look adoringly into each other's eyes throughout the video. As a result, it looks like the duet has sent their collective fans into a tizzy and Twitter is in shock. 
2017 is already a better year than 2016 because of this duet:
The kids are shaken...
...they are so shaken, they would be willing to pay for a physical copy of this one song.