Porn star James Deen is still being honored for his work despite sexual abuse allegations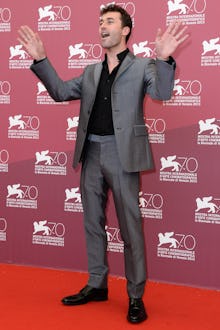 Things haven't been the same for porn star James Deen since nearly a dozen women accused him of sexual assault last fall. The performer, once deemed the "well-hung boy next door," certainly lost some standing in the adult industry after his ex-girlfriend, fellow adult performer Stoya, publicly accused him of abuse in late November 2015.
Still, his career hasn't exactly suffered. For proof, just look to the spate of nominations Deen recently received from the industry's biggest awards shows. 
Nearly one year to the day after Stoya first accused Deen of assault, major awards ceremonies XBiz and the AVN Awards announced the formerly adored performer is up for 18 different awards — for films he's done since the allegations, because production companies and performers continue to work with him. 
According to a recent analysis by Vocativ, although Deen's output has diminished noticeably in the wake of the abuse allegations, he's continued to get plenty of work throughout 2016. Including the performances that got him his most recent AVN and XBiz nominations, Deen has starred in 114 adult films since Nov. 28, 2015, (down from 142 the year prior). While he produced roughly a quarter of them, other production companies were responsible for the rest — indicating the industry might have gotten over its initial disaffection with Deen. 
"Very little has changed in James' life over the last year," Howard Bragman, Deen's spokesman, told Vocativ. "He is not subject to any cases either criminal or civil, and he is continuing the same work he did before in the entertainment industry." 
What's unclear, however, is whether the adult entertainment community has also gotten past its concerns about ensuring performer safety and consent, which the accusations against Deen brought front and center. 
When Stoya's allegations were followed by additional accounts of abuse from stars Tori Lux and Ashley Fires, studios like Kink.com — which was involved in several of the allegations against Deen — dropped the beleaguered performer from its roster in the name of actors' safety. And a number of other performers also said they would no longer work with him. At the 2015 AVN Awards, where Deen was honored with 33 nominations and took home two awards, his presence was met with confusion and unease. 
"He's walking around probably just because that's what his PR people told him to do, but I don't know any companies that are shooting him other than his own company," adult performer Tasha Reign said of Deen's appearance at AVN in January. "I feel uncomfortable with it. Not because he's going to do something ... It's just that it's uncomfortable that he honestly hasn't been punished for those actions." 
It seems much of the industry doesn't share that discomfort, though. Where some performers hoped and believed the myriad allegations against Deen would make adult production companies more stringent about ensuring consent, that doesn't appear to be happening anytime soon. The more likely outcome? Deen could be named male performer of the year, an award for which XBiz and AVN both nominated him.