You can get a scoop of "Burn in Hell Fidel" at this Miami ice cream parlor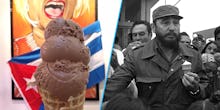 Revenge is a dish best served cold, it appears. 
Azucar Ice Cream Co., a shop in Little Havana, Florida, is now serving a Fidel Castro-themed flavor called "Burn in hell Fidel." 
The flavor is sweet retaliation meant to celebrate the death of former Cuban Prime Minister Fidel Castro, who died Friday night. Castro was a controversial figure who conducted political executions and also censored news.  
The flavor is spicy like "a kick in the ass that Fidel deserves." - Suzy Batlle, founder of Azucar Ice Cream
The name for the newest flavor came from a Facebook fan, said Suzy Batlle, the founder and owner of Azucar Ice Cream. It's a chocolate ice cream with a dash of cayenne for a spicy kick — like "a kick in the ass that Fidel deserves," Batlle said. A scoop of this vengeful treat costs $4. 
"We sold out and have been producing it around the clock," Batlle said, adding that she's received orders from as far out as Texas. (The shop sends pints packed with dry ice through UPS.) 
Ice cream is beloved by Cubans, and Azucar Ice Cream was the first shop to begin serving Cuban-inspired ice cream to the people of Miami, Saveur reported. Even Castro himself loved ice cream, Vox reported, noting that the United States allegedly tried to slip poison into one of Castro's ice cream cones in 1961.
"I call [Azucar's ice cream] Cuban ice cream because I am Cuban... we have an assortment of Cuban-inspired flavors that you will not see anywhere," Battle said. One of the shop's most popular flavors is called Abuela Maria (after Batlle's grandmother) and has guava, cream cheese and Maria cookies (crisp and sweet cookies). The most "Cuban of all flavors" is the "Mantecado" flavor — an egg-based ice cream reminiscent of ice cream sold in Cuba. 
Batlle has yet to receive any negative responses to her bold new flavor. "We live in Miami," she said. Seriously, I don't think that anyone could possibly be in misery other than a communist." 
Were there any other flavor ideas in the running to celebrate Castro's death? "No, but I'm sure I can come up with one for Raul Castro!" she said. "It [can be] called a bullet in the head and we can use raspberry topping for it."