Gov. Jack Dalrymple orders "mandatory" evacuation of #NoDAPL protest site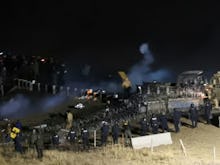 On Monday, North Dakokta Gov. Jack Dalrymple issued a "mandatory evacuation" order effective "immediately" for the hundreds or thousands of activists protesting the construction of the Dakota Access Pipeline near the state's Standing Rock Sioux reservation.
The order warns the pipeline protesters that amid rapidly approaching winter conditions, access to emergency services is no longer "guaranteed" and subject to the discretion of the Morton County Sheriff or state Highway Patrol.
Dalrymple's order comes one day after the U.S. Army Corps of Engineers released a statement saying it has "no plans for forcible removal" of the protesters after the agency said it would begin blocking public access to the designated areas on Dec. 5.
However, the governor's order did not foreclose the possibility that state and local authorities operating under his jurisdiction would do just that. Dalrymple wrote "any action or inaction taken by any party which encourages people to enter, reenter, or remain in the evacuation area will be subject to penalties defined in law." He also cited his "authority to direct or compel the evacuation of all or part of the population from any stricken or threatened area within the state" at his discretion.
It also specifically notes the evacuation order will remain in effect even if the corps rescinds their designated restricted areas.
According to SayAnythingBlog's Rob Port, North Dakota Department of Emergency Services spokeswoman Cecily Fong said the state will not be enforcing the order and is intended as a warning that emergency services will not be provided to those who remain.
However, Cherokee Nation scholar Adrienne Keene argued the state has already been preventing emergency services from accessing the site, and law enforcement, not winter conditions, are behind the blockade.
Dakota Access Pipeline protesters, local and state law enforcement and private security forces guarding the construction site have repeatedly clashed in recent months. Native activists and others are concerned the $3.8 billion pipeline will threaten the Sioux reservation and surrounding areas' water supplies and endanger community members' health, as well as destroy Sioux burial grounds.
Human rights observers including Amnesty International have harshly criticized law enforcement use of force against the activists. This month, a group of the activists filed a North Dakota district court lawsuit alleging authorities used excessive force.