Inauguration Day 2017: Everything you need to know about Trump's swearing in ceremony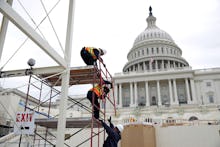 As Inauguration Day looms nearer, viewing stands are being constructed outside the west front of the U.S. Capitol Building as rumors swirl about how the inauguration of Donald Trump, a notorious showman with a taste for all things gold, will take shape.
A "simple" affair
Previously, Trump's presidential inauguration, which will take place on January 20th, 2017, had been pitched as something grandiose. The New York Times reported that, Trump shared a few of the ideas that had been floating around during a fundraiser last week: Apprentice producer Mark Burnett suggested a parade up Fifth Avenue, as well as a helicopter ride from New York to Washington, D.C. The Times noted that vetting from various agencies regarding security concerns, including the Secret Service and the National Park Service, has reeled in Burnett's more extravagant ideas.
Thomas Barrack Jr., a private equity investor and leader of Trump's presidential inaugural committee, batted away the overly ambitious rumors. 
"The president-elect wants this to be simple," Barrack told the Times. "He wants this to be about the people."
According to New York Daily News, Trump is expected to attend two official inaugural balls, a sharp decline from the 10 Obama attended in 2009. Inaugural committee communications director Boris Epshteyn said the pivot toward a more understated affair underscored how seriously Trump is taking the role. "This is a workman-like inaugural," Epshteyn told ABC News. "This is not a coronation. This [president-elect] wants to get to work."
In 2009, Barack Obama's first inauguration featured a massive number of entertainers and performances over the course of three days, including a "We Are One" concert and a separate "Kids' Inaugural: We Are The Future" concert. And there was ample entertainment throughout, including performances by Miley Cyrus, Bruce Springsteen, the Jonas Brothers, Mary J. Blige and a soulful rendition of "America the Beautiful" performed by Beyoncé.
Inauguration donors
Trump has already secured about $50 million in pledged donations since his inauguration committee began fundraising a week ago, according to sources who spoke with the Times. The committee set a fundraising goal of $65 to $75 million, which they are expected to meet or pass. Obama raised a total of $53 million for his 2009 inauguration.
However, Obama capped donation amounts at $50,000 per donor, refusing to accept money from "corporations, political action committees, people who are currently registered with the federal government as lobbyists, those who are not citizens of the United States or registered foreign agents." according to the Times. Trump, on the other hand, is requesting donations upward of $1 million, including those from corporations.
Massive protests 
The Women's March on Washington, which is planned for January 21st, 2017, was slated to start at the Lincoln Memorial and continue to the White House. The march made headlines after it was incorrectly reported that the National Park Service specifically barred the Women's March on Washington from obtaining permits to march on the Lincoln Memorial the day after inauguration.
However, the NPS was not specifically targeting the Women's March or similar protests — rather, the issue stemmed from a previous booking of the March's starting location, the Lincoln Memorial. NPS released a statement explaining that the Lincoln Memorial was off limits the day after the inauguration because another group had submitted permit requests for the location before the Gathering for Justice group did.
Organizers have since secured a new starting location near the U.S. Capitol: the intersection of Independence Avenue and Third Street SW. The March will begin at 10 a.m. on January 21.
The protest, which currently has almost 150,000 RSVPs on the group's national Facebook page, is intended to "send a bold message to our new administration on their first day in office, and to the world that women's rights are human rights." 
Entertainment is still up in the air
Despite now being the president-elect, one of Trump's biggest hurdles throughout his presidential campaign continues to haunt him: Entertainers, for the most part, want nothing to do with him. Trump's entertainment woes have followed him since the start of his campaign, with dozens of celebrities and musicians speaking out against Trump's rhetoric. Several musicians have also sent his campaign cease-and-desist notices for using their music at his rallies. Following the election, a member of Trump's transition team wrongly claimed that Elton John would be performing at Trump's inauguration. John's publicist brusquely corrected the record: "Incorrect. He will NOT be performing."
Kanye West, who gave a dizzying pro-Trump rant during a concert in November, stopped by Trump Tower on Tuesday morning. The meeting sparked conversation that Trump had perhaps finally scored an A-list entertainer for his inauguration. (E! News cited an unnamed source who said the meeting was to discuss an "entrepreneurial leadership role" with the administration; Trump told reporters they talked about "life.")
Meanwhile, early Tuesday, the Daily Beast reported that the committee was "courting" Italian opera singer Andrea Bocelli.
Dec. 14, 2016, 2:41 p.m.: This article has been updated to remove a reference to the American Constitution Society. While the National Park Service initially reported that that group had submitted a permit for the Lincoln Memorial, the group says it has not planned an event for that location the day after the inauguration.