Netflix tweeted an autoplaying video of a staged suicide and people are furious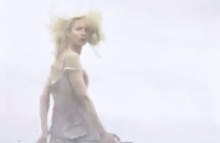 In a stunning misfire, Netflix tweeted an autoplay video of a woman jumping off a bridge without context or warning to promote its new mystery thriller The OA, which premieres Friday. The show follows a blind woman who goes missing for seven years and mysteriously returns home with her sight restored.
Netflix first posted a series of cryptic tweets to its nearly 2.5 million followers on Monday:
It then followed up with a three second video clip — which is shot to appear like it was recorded live — of a woman running toward the edge of a bridge. Netflix tweeted the same clip, but with an additional five seconds added, that shows the woman jumping off the bridge. It was swiftly criticized for failing to provide any sort of context or warning.
(Editor's note: The video may be disturbing to some readers. View with discretion.)
The eight second video is still available here.
As of writing, the tweet hasn't been removed or revised, leaving people to share content warnings about Netflix's Twitter account on their own.
A representative for Netflix did not immediately return a request for comment.