Plane carrying 81, including Brazil's Chapecoense football club, downed in Colombia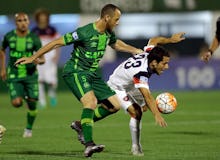 A charter plane carrying 81 passengers, including 22 players of the Brazilian football club Chapecoense, as well as nine crew lost contact with ground controllers shortly after midnight crashed near Medellin, Colombia, the Guardian reported early Tuesday morning.
According to the Guardian, 75 people aboard were killed. Six people survived, and one died at the hospital after reportedly surviving the initial crash, officials said. Three soccer players, Alan Luciano Rushel, Helio Hermito Zampier and Jackson Ragnar Follman, are among the six survivors.
Two crew members and a journalist were the other survivors. 
ABC's Joshua Hoyos posted to Twitter saying airport authorities said the plane reported an electrical failure before declaring an emergency. It subsequently went down in a mountainous area outside the city.
Officials at José María Córdova International Airport, which is located approximately a 45-minute drive from Medellin, named the flight as LAMIA Bolivia RJ85, registered CP-2933.
According to the Guardian's Mike Hytner, the Chapecoense team was "on their way to play in the first leg of Copa Sudamericana final against Colombian side Atlético Nacional. The match was scheduled to be played in Medellin on 30 November, with the second leg back in Brazil on 7 December." The team plays in Brazil's top division, Série A.
Nov. 26, 2016 9:50 a.m.: This story has been updated.