Fight for 15: Organized mass strikes, protests take place across country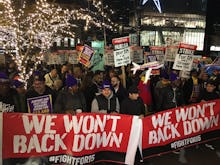 The Fight For 15 movement's national Day of Disruption started early Tuesday morning. Low-wage workers across the country are striking in what the Fight For 15 movement calls its "largest, most disruptive protest" in its 4-year history. The strikes are expected to take place in 340 cities and almost 20 of the nation's busiest airports, according to organizers from Fight For 15.
Uber drivers are joining Fight For 15's strikes for the first time.
Uber drivers are expected to strike throughout the country, but will predominantly protest at San Francisco International Airport in California, where Uber is based, according to statements made by Uber drivers. Uber touts that its drivers can earn up to $20 per hour but data indicates the average in busy metropolitan areas can fall as low as $6.60 an hour. 
Fight For 15 has been at the forefront of recent arguments for a living wage
Fight For 15, which is backed by Service Employees International Union, has advocated for increasing the national minimum wage to $15 an hour for the past four years. 
The movement has seen incremental success. Bernie Sanders ran on a platform that included increasing the minimum wage. California, New York and Oregon have passed laws to increase the minimum wage to $15 over the course of several years, and Arizona, Colorado, Washington and Maine voted in the 2016 election for minimum wage increases in their states to at least $12 by 2020. Still, a majority of states have yet to pass minimum wage increases.