Donald Trump officially wins Michigan, breaks 300 Electoral College votes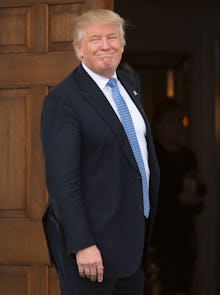 Republican President-elect Donald Trump has officially won the state of Michigan, putting his Electoral College vote count above the 300-point threshold, the New York Times reported.
The GOP candidate for president was declared the winner of the nation-wide election earlier this month, but the results in Michigan were too close to call up until this point. 
Trump announced the winner of Michigan
Trump was declared the official winner on Monday, winning by a margin of around 10,704 votes. His win in the Great Lakes State gives him 16 additional electors, putting his official Electoral College tally at 306 votes. 
Although she won the popular vote by more than two million ballots, Hillary Clinton took home just 232 Electoral College votes.
Trump took to Twitter to celebrate his win.
Experts agree, Trump's win is not a landslide
The president-elect has frequently stated that his win over Democratic candidate for president Hillary Clinton was a decisive one, calling it a "landslide" victory.
Yet, historically speaking, Trump's victory hardly fits the label of a landslide, according to the Los Angeles Times. Though he won decisively, political scientists and pundits are in virtual agreement that his win is not a landslide victory. 
A study by John J. Pitney, professor of politics at Claremont McKenna College in California, found that out of all 58 elections for president since the Constitution's ratification, Trump's victory only ranks 46th in terms of percent of Electoral College votes won, with just under 57% of the electors in his column.
Other experts agree: When Trump's newly-appointed Chief of Staff Reince Priebus suggested Trump won in a landslide, PolitiFact consulted with 10 experts on the matter. One said he came close to a landslide victory, but all 10 agreed he didn't reach the threshold necessary to claim one.
A recount is possible
Trump's slim margin of victory in Michigan means he won the state by just two-tenths of a percent over Clinton. Green Party candidate for president Jill Stein, who has already filed for a recount in Wisconsin, may ask for a recount in Michigan as well.
Stein is asking for recounts in three states (Pennsylvania being the third) due to ballot discrepancies reported in those states. It's also the hope of her supporters — as well as of some Clinton supporters — that her recount requests could result in flipping the Electoral College vote counts, giving Clinton the presidency as a result.
That outcome is a long-shot, however, with many experts agreeing it isn't likely to happen.